As cannabis bill nears finish line, industry banking still hazy
Image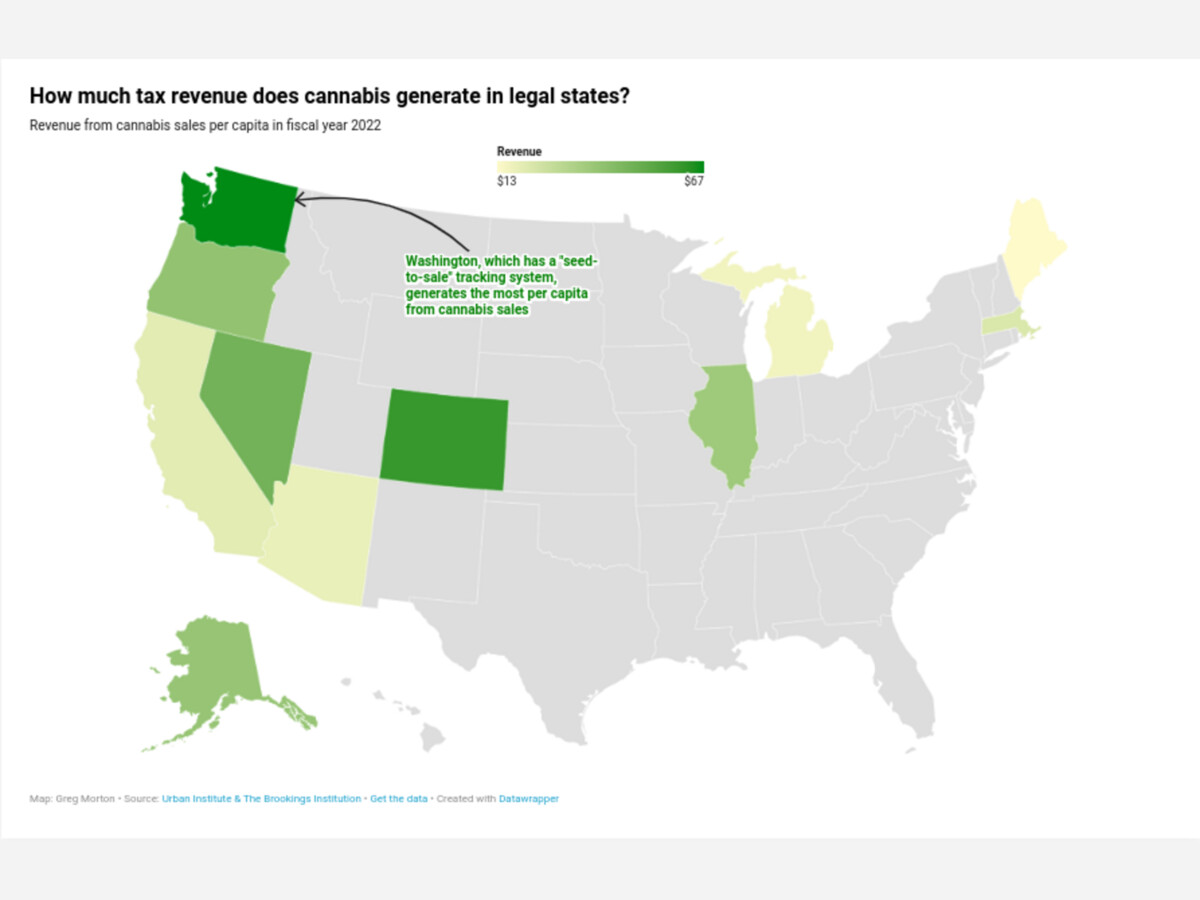 By Greg Morton
Capital News Service
ANNAPOLIS, Md. – With less than a week left in Maryland's legislative session, most elements of Maryland's plan to create a legal market for cannabis have been decided. Bills on track to pass establish details like licenses to be allotted, the types of operators allowed and provisions to create an equitable market for a likely billion-dollar industry.
But how to bank those potential billions is still a thorny question in light of federal banking regulations that treat cannabis dollars as illegal drug money.
"I believe it's going to be very difficult to legitimize an industry if it's all cash all the time," said C.T. Wilson, D-Charles, chairman of the House Economic Matters Committee and an architect of the House bill.
Cannabis remains a federal Schedule 1 drug – substances that, according to the DEA, have no accepted medical use and a high potential for abuse. Yet, that status failed to deter Maryland's voters, who voted overwhelmingly for legalization, or the state's lawmakers, who have committed to having the market up and running by July 1. But it puts banks – institutions which serve as some of the financial system's most critical infrastructure – in kind of a legal limbo when deciding whether to work with cannabis businesses.
Most banks rely on deposit insurance from the Federal Deposit Insurance Corporation, or FDIC, an organization created during the Great Depression to restore confidence in banks by guaranteeing deposits up to $250,000 and ensuring depositors can access their money should their bank run short on cash. Since deposit insurance is issued by the federal government, working with cannabis businesses, even those licensed at the state level, means potentially risking the insurance that protects depositors from bank runs and liquidity crunches.
Though no bank has lost its FDIC insurance for working with the cannabis business to date, the risk alone is enough to scare some off.
Going unbanked
Maryland's cannabis operators will depend on banks to perform the function that people are most familiar with – keeping their money secure.
"Businesses use bank accounts to hold their money to pay for things just like we do as individuals," said Zoë Plakias, an agricultural economist and professor at Western Washington University and Ohio State University who has done research on cannabis industry banking. "It turns out that many cannabis businesses have a very hard time just getting a bank account."
The practical consequences of going unbanked, or going without a bank account, can be catastrophic. Since so many cannabis transactions, even legal ones, are conducted in cash, going unbanked can present a significant security risk.
"The number of burglaries is astounding…I mean, we've had deaths in robberies in our state," said Laura Lee Stewart, president and CEO of Sound Community Bank, a Washington state bank providing deposit and loan services to cannabis businesses. The cannabis business' cash-centric nature has forced banks to get creative with solutions like armored car services and discrete cash pickups. Bankers joked that many cannabis businesses' security measures look a lot like those employed in their banks.
Safety is just one of many practical concerns. Without access to a bank account, doing simple things like getting a business debit card, quickly handling expenses, making sure employees get paid on time and meeting state taxation requirements become far more difficult.
Without a bank, it "makes it very difficult to meet all the various kinds of regulations" required, said Plakias, adding that she would "not at all be surprised" if revenue goes unreported, even if the businesses are trying to do things legally.
Working with cannabis businesses, even in states like Washington where it is legal and regulated, can be a risky, costly proposition for banks, forcing them to weigh the potential costs of running afoul of government regulation against the potential benefits of making money in a space where so far there hasn't been a lot of competition for depositors.
The cannabis reform bill making its way through the Maryland General Assembly attempts to alleviate some of the risk for banks by placing limitations on the Office of the Commissioner of Financial Regulation, which regulates banking in the state. The provision would forbid the office from taking action against a bank just for serving licensed cannabis businesses. That would mean banks would have one fewer regulator to deal with when considering whether to bank a legitimate cannabis business.
Since Maryland's lawmakers cannot control federal policy, it is unclear whether these incentives will be enough to convince more banks to take the risk of serving cannabis businesses.
---
"I think what bankers have to decide is the risk of their federal charter... 
there's still a risk that you're banking an industry that is illegal at the federal level," said Laura Lee Stewart, president and CEO of Sound Community Bank.
---
"I think what bankers have to decide is the risk of their federal charter… It doesn't matter what the state of Maryland or the state of Washington, or Colorado, or Oregon or California do, there's still a risk that you're banking an industry that is illegal at the federal level," said Stewart.
Even for the increasing number of banks relatively unconcerned about threats to their FDIC insurance and emboldened by the Justice Department's 2013 policy change narrowing the scope of cannabis enforcement, banking the cannabis industry means they must commit the necessary resources to comply with rigorous federal reporting requirements. Banks must fill out regular Suspicious Activity Reports detailing all activity that could be related to a crime or controlled substance.
"I'm not exactly sure how many (SARs) are filed (per month), but a lot," said Alan Hyatt, chairman of Shore United Bank, which works with licensed medical cannabis operators in Maryland.
Just keeping up with SARs for businesses that do a lot of transactions and handle a lot of cash can be labor intensive. As of late 2021, the Treasury Department reported receiving over 200,000 cannabis-related SARs from over 700 banks that work with the cannabis industry. Both Shore United and Sound Community Bank have teams devoted to filing SARs, and the cost of filing that paperwork gets passed on to businesses, and eventually, to customers.
"It's very expensive because the banks that choose to bank with us…they have to do a lot of extra compliance," said Tracey Lancaster-Miller, president of the Maryland Medical Dispensary Association and executive vice president of Peake Relief in Rockville.
Finding the money
Cannabis businesses, particularly those just breaking into the industry, will also look to banks for loans.
For banks and businesses alike, lending usually functions as a win-win. Business owners, who rarely have enough cash on hand to cover all of their expenses, especially when they're first starting out, get money to cover expenses and grow their businesses, banks get to make a profit while finding a place to put some of their deposits.
While no loan is entirely risk-free – there's always a chance that a homeowner could default on their mortgage or a business could fail – the risks for banks are especially acute in cannabis because of federal regulation. As a result, banks have been slow to loan to cannabis businesses, forcing them to turn to other, less ideal, funding sources.
"If you cannot get financial capital through the standard channels, banks and loans, then you look for other sources, you find investors," said Plakias. "You need to have people in your networks who have a lot of money." This is a point of particular concern for "social equity applicants" or applicants for cannabis licenses that would have been most affected by the war on drugs.
Private funding sources may also come with a longer-term commitment than a bank loan. Rather than merely collecting interest on their original loan, many private investors will ask for equity, or a stake in the business.
"In order to get capital, at that point they probably would have to look at giving away equity in the company, which also potentially means control of certain aspects of the company," said Lancaster-Miller.
---
Maryland's legislation tries to lessen the amount of risk 
a bank has to take through its Capital Access Program, allowing the state to guarantee bank loans to social equity applicants.
---
Maryland's legislation tries to lessen the amount of risk a bank has to take through its Capital Access Program. The program will essentially allow the state to guarantee bank loans (up to $500,000 for dispensaries and up to $1 million for growers) to social equity applicants, freeing banks from some of the financial risk associated with lending to the cannabis industry. The bill also establishes a loan-loss prevention account.
"(The Maryland legislation) allows banks to be a part of this process, give out protected loans, as well as work with these individuals so they can be banked," said Wilson.
Some bankers remain concerned about lending to the industry because of the volatility of the market. The cannabis industry has been in an oversupply crisis that has forced spot-cannabis prices down, squeezed profit margins, and forced many cannabis businesses to close. Some bankers in Maryland worry the state is granting too many licenses, potentially making the industry a bad bet for banks.
"I think there's too much growing capacity… too many licenses," said Hyatt, who also worries that because the bill prohibits license transfers for an initial period it will be difficult for borrowers to offer their license, potentially their most valuable asset, as collateral on a loan.
Breaking the cash cycle
While Maryland's cannabis reform bill makes a comprehensive effort to reduce the risk for banks, there's little it can do to address the question that underlies many of the cannabis industry's problems: Why are so many cannabis transactions conducted in cash?
Licensed medical cannabis operators in Maryland estimate that a majority of legal medical cannabis transactions take place in cash, despite the legality of their businesses and the fact that many medical cannabis businesses are banked.
"We're still plagued by a retail delivery system that is cash only," said Stewart.
Once again, the blame lies with federal government policy. Because of the federal prohibition on cannabis, all major credit card companies including Visa, Mastercard, Capital One, and others refuse to process cannabis transactions.
The federal government has attempted to remedy this through the SAFE Banking Act, bipartisan legislation that would lessen credit card company liability in processing cannabis transactions. Getting to real credit card payments "would be huge," said Stewart. It would cut administrative costs of SARS, reduce risk and produce more competitive rates, she said.
Though SAFE Banking has passed the House of Representatives six times, most recently in 2021, the bill has failed to secure a vote in the Senate.
---
---