Bowie Bulldogs roll past Bladensburg with an eye on Flowers next week
Image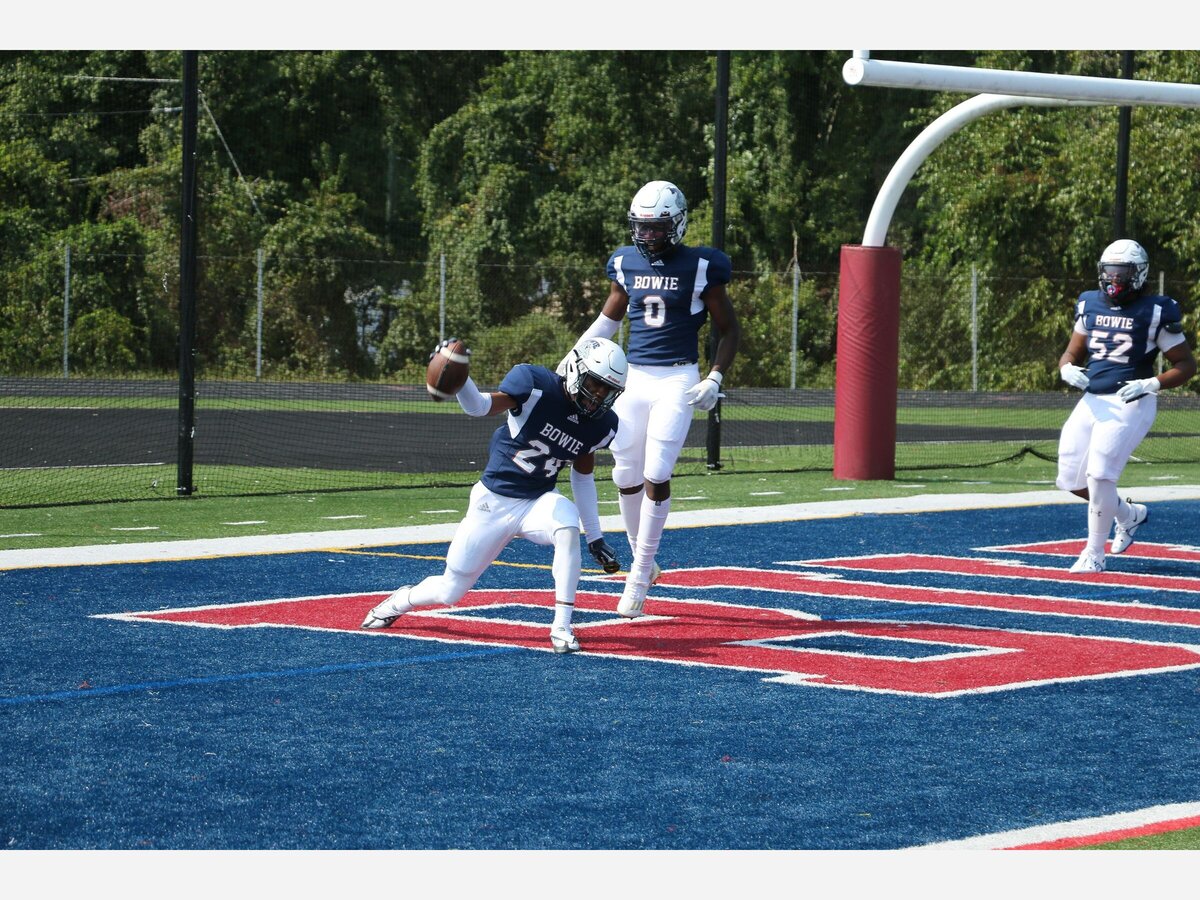 BOWIE, Md. — The Bowie Bulldogs cruised to victory Saturday in a 41-0 no contest game against Bladensburg.
The Bulldogs' offense took the field with 5:33 left in the first quarter already up 21-0 after Mason Sessoms returned the opening kickoff 98 yards for a touchdown and the Bulldogs' defense snatched back-to-back interceptions returned for touchdowns.
Despite the dominating win, Bulldogs head coach Augustus Parrish wasn't thrilled with the way his team played after the game. "I don't think we played to our best ability. I feel like we kind of played to our opponent's level, which is something that we've been preaching all season. It's not really about our opponent but it's more so about us and how we attack it,'' coach Parrish said in an interview after the game.
The Bulldogs were dominant on all sides of the ball with two special teams' touchdowns and a blocked punt, a dominant run game on offense, all while pitching a shutout on the defensive side of the ball.
The Bulldogs, led by senior quarterback Jevaughn Sargent, are now 3-0 on the year as they look ahead towards next Saturday's matchup against the Flowers Jaguars.
"We going to try to lock in as best we can, watch as much film as we can, prepare the most we can," Sargent said. "We lost to them four times in the past three years, [it's] my senior year, I don't want to go through that again," he said in an interview after the game.
Flowers (Springdale) defeated Eleanor Roosevelt (Greenbelt) Friday night, improving their record to 3-0 on the year in the Prince George's County 4A/3A league.
"Tough opponent," coach Parrish said, "kind of our achilles heel right now as far as taking this program to the next level, so we're going to see how bad the guys want it."
All eyes are set on the battle of two undefeated teams when the Bulldogs' take on the Flowers Jaguars at home on Saturday, Sept. 24 at 2 p.m.