City grant helped Bowie State students learn the art of showcasing their work
Image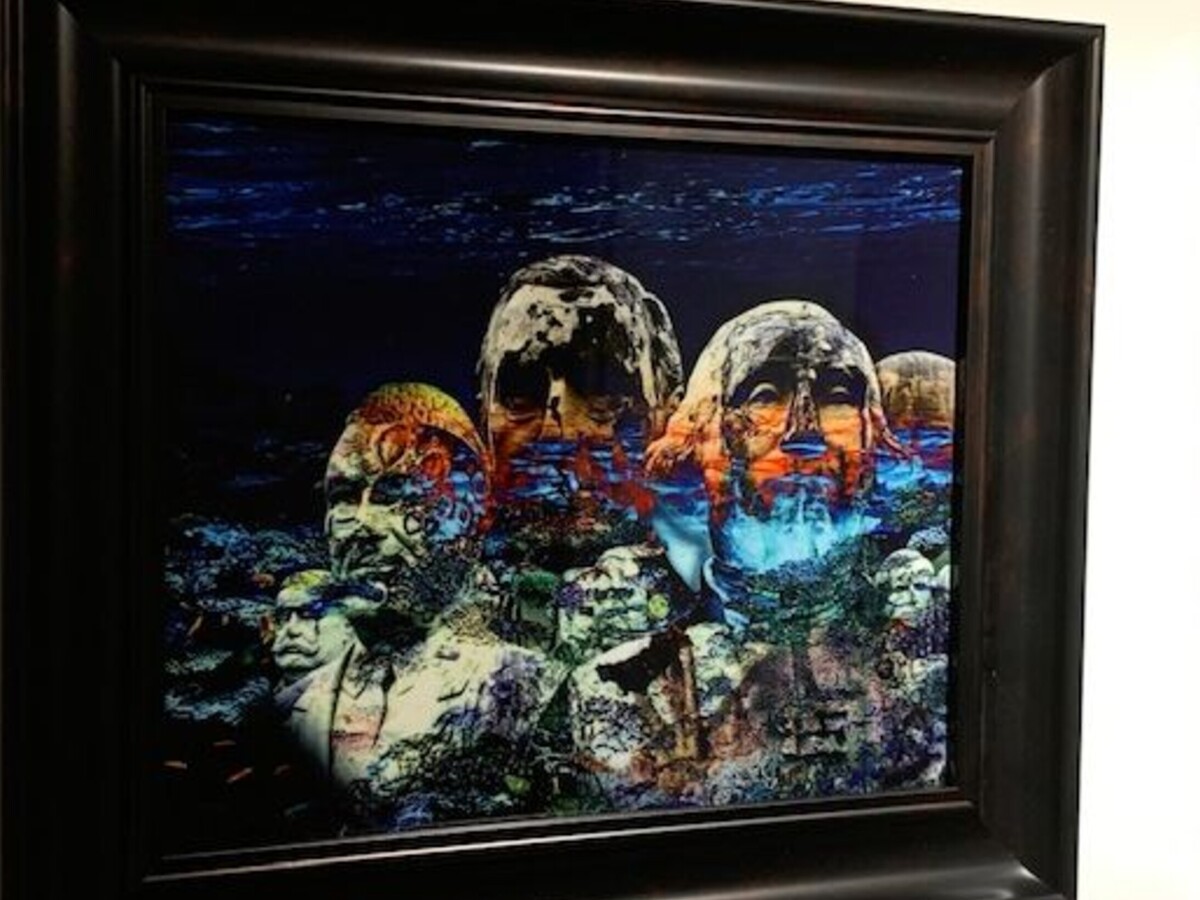 BOWIE, Md. — Thanks to a city grant, more than 30 Bowie State University students and faculty got a crash course on how to exhibit their artwork—a skill that professors say is not typically taught in college.
A $4,800 grant from the Bowie Arts Committee helped fund the eight-hour workshop that covered resizing, matting and framing artwork. The workshop culminated with an exhibit at Bowie City Hall that opened at the end of January and runs through May 20.
The Bowie State artists were on hand to discuss their works during a catered reception at City Hall March 2. The evening reception featured musical performances as well as paintings, photography and other works by Bowie State students and faculty.
"Some of these kids were quite emotional and excited about having this type of opportunity to show their work," said Lori Cunningham, community outreach specialist for the City of Bowie. "So often, artists may not be celebrated, especially new and young artists may not be celebrated for the artistic contributions that they are curating," she said.
"It's a great honor," Bowie State fine arts major Kelsey Reyes said. "I'm a very shy artist, so this is something new and exciting for me to share with others."
Reyes, who plans to graduate in December, aspires to be a photographer and middle school art teacher. Two of her photographs are on display at City Hall, one depicting a pumpkin patch near Bowie and the other a shot of President Joe Biden and Wes Moore when they visited Bowie State on election eve.
"I hope it connects with people who see it, but also people who will possibly be looking for photographers to work with them," Reyes said. Some of her other work has been on exhibition before at a New York charity fundraiser and at Howard Community College, where she previously attended. Still, she said the Bowie City Hall exhibit is "a huge accomplishment."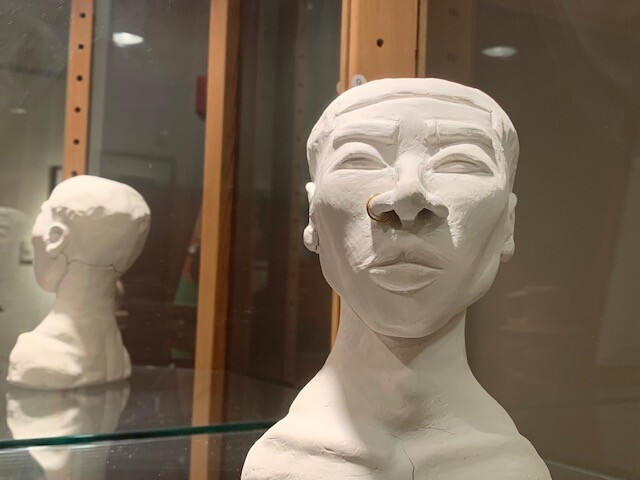 For many of the students, the City Hall exhibit is the first time their artwork has been displayed publicly. Bowie State student Shane Massey said, "This was actually a super exciting opportunity. This is my first time being in an exhibit."
Raised in a small farmhouse in Lewes, Delaware, Massey reflected his fascination with city life in "The Perfectionist," part of his "Streets" series. "I'm not trying to romanticize the city or anything, but I think the city is beautiful."
In his digital painting "The Reader," Massey explores what he calls "the anxious mind" preoccupied with unsettling headlines about the pandemic, Ukraine bombings and social unrest. "It's crazy to think that all this is happening around us, right? But it's supposed to be also a calming sense because I use nice earth tones… a relaxing tone just to think about how people are feeling during these times where we should be coming together."
An advertising and graphic design major, Massey said he sought to "represent where I'm coming from—HBCUs and learning about these cities… and maybe my own personal experience with all that."
Bowie State studio art professor Arthur Vidrine led the art exhibition workshop but was not involved in selecting the works to showcase. "It definitely helps someone's confidence to know that their work was selected [by a] jury. It wasn't me picking their work."
As Vidrine explained, "Part of this whole process was useful because not a lot of the artists had actually participated in exhibitions, call for entries for exhibitions, where you actually have to submit an application. You have to follow guidelines for resizing work."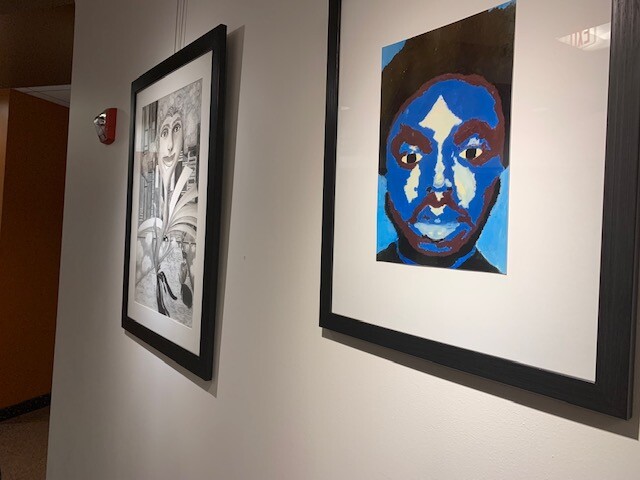 'The business side of art'
As a result of the art exhibit workshop, Vidrine said he and another faculty member are considering changing the fine arts curriculum to include framing and matting artwork. These skills are "covered sporadically, but it's not consistently sort of built into the program," Vidrine said.
Dr. James Smalls, chair of the Department of Visual Arts at the University of Maryland Baltimore County, agreed: "Framing and matting is not part of the curriculum in most places. However, if it was, it would be part of a portfolio development course usually in terms of… a foundations course."
Smalls added, "But we do recognize the need for portfolio development. So we're working on incorporating portfolio development into our foundations courses."
Jackie Thompson, co-gallerist at the Overdue Recognition Art Gallery in Bowie, said, "Learning the business side of art is, you know, fundamental. I talk to a lot of artists that come out of school, and they say they don't get that experience or they don't get that learning while they're in college."
"And then there's etiquette of how to approach art galleries, how to market your pieces, how to price them… They don't teach any of that in school," said Thompson, who opened her gallery in Bowie in 2018 with her spouse Derrick.
Even with the emergence of digital art, there is still a place for traditional art exhibits, in Thompson's view. "I don't think that the old school—getting into galleries and getting into museums—I don't think that's ever gonna go away. Even if you look at, like, NFTs and things, the market for them has dropped 75% in 2022."
The City Hall gallery featuring Bowie State artists is "wonderful exposure" for the students, Thompson said. 
The current exhibit includes works that are available for purchase.  Smaller grants from the city have funded past Bowie State art exhibits at the Bowie Center for the Performing Arts, Vidrine said.
---
ARTFUL EVENTS
---
For young creators
In other art-related news, short films created by middle and high school students will be featured at the virtual Youth Diversity Film Festival March 3-12. Register on Eventbrite for the virtual film screenings and panel discussions. Cost: $5 students and seniors, $10 general admission.
Dream big! Apply for an internship with Dreamworks by March 10. For a list of available internships, view the various positions on Dreamworks' parent website NBCUniversal.
Creativity was on display during a Black History Month celebration Feb. 17 at the University of Maryland Startup Shell. The event, Young, Gifted & Black, featured a pop-up shop and performances by several UMD students, including local artist Kang, who closed with the crowd swaying to "Stretch These Bills." (Scroll the photo gallery below.) The backdrop for the event was a floor-to-ceiling mural painted on glass by UMD students Camryn Streib and Katherine-Aria Close. They said passersby honked and gestured approvingly as they worked on the mural, which was visible outside the building off Stadium Drive. "A lot of people walk past and are really curious and happy about the mural," said Streib, a senior from Howard County who is studying immersive media and psychology. She and Close plan to add the mural to their art portfolios. "It's just a joy to be able to spread awareness and to bring people a sense of community through visual work," said Close, who is studying graphic design and environmental science and policy.