Biden warns 'democracy at risk' during Bowie State rally
Image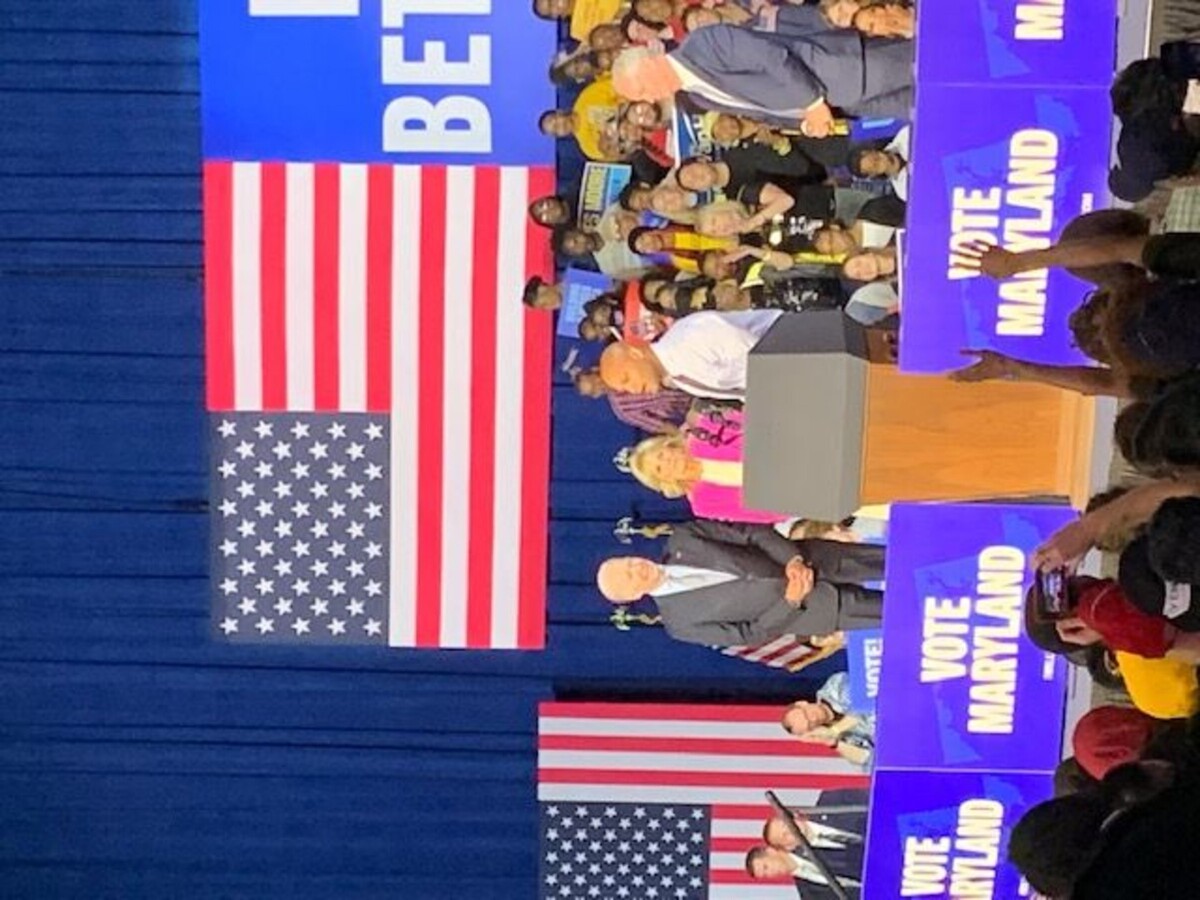 With additional reporting by Catherine Hollingsworth
BOWIE, Md. – Voters from Bowie and points beyond converged on Bowie State University on election eve for a rally with President Joe Biden, who warned that "democracy is at risk" and to vote Nov. 8 in support of candidates who will protect it.
In his closing arguments to Maryland voters on the night before the midterm elections, Biden called Democratic gubernatorial candidate Wes Moore the "real deal" and denounced his Republican opponent state Del. Dan Cox for supporting "that mob" at the Jan. 6 Capitol riot last year. 
Backed by former President Donald Trump, Cox has said that he is running on an America First agenda to protect freedom and has denounced the Jan. 6 violence. Though, he reportedly tweeted (and later deleted) a post calling former Vice President Mike Pence a traitor.
"They're trying to deny your right to have your vote counted," Biden said. "You can't only love your country when you're winning," he said.
Biden sought to close the deal with voters like Bowie resident Charles Campbell, who is concerned about election deniers and climate change deniers. "Will we actually see anyone prosecuted for any crimes?" Campbell said of the Jan. 6 rioters. An independent, Campbell attended the rally with his mother, a Democrat.
The father of two sons, one of which is a student at Bowie State, also worries about future generations grappling with the effects of climate change, such as extreme temperatures and increased flooding. "I'm looking at students here on the campus of Bowie State and I'm just thinking, what kind of a future will we have left for them?"
"As far as Wes Moore becoming governor, I'm just interested to see if any– if even half of the things he talks about can come to fruition, the state will be in a better place," Campbell said, as he waited to enter the rally.
Throughout the evening, candidates vying for Maryland's top spots reiterated the theme of upholding democracy in the November election. "A democratic election should be honored and respected," Moore said.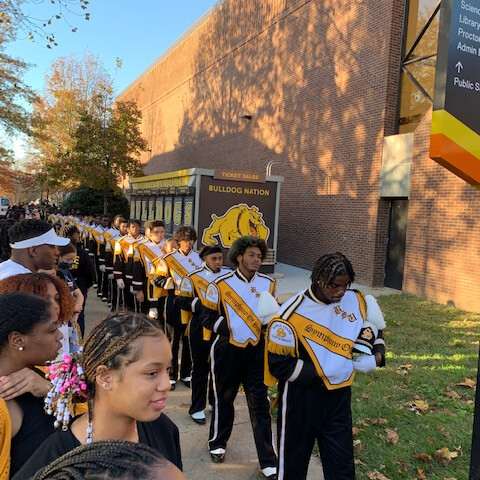 Calling it "the most important midterm of our lifetime," Sen. Ben Cardin (D) reminded voters of issues on which he said his party has delivered, including health care and women's rights. "Democracy is on the ballot tomorrow," Cardin said.
First Lady Jill Biden made a special plea to mothers: "I am asking you to put voting on your top of the to-do list," she said, pointing out that reproductive rights were at the top of the ballot this election cycle.
"I want you all to remember that freedom is not free," Prince George's County Executive Angela Alsobrooks said, recalling the violence faced by those who stood up for civil rights.
Rallying younger voters
"We're gonna vote tomorrow, right!" Bowie State President Aminta Breaux said as students cheered. She invoked the words of HBCU graduate and civil rights leader Congressman John Lewis: "Your vote is precious, almost sacred."
After a decline in the Black student vote in 2016, national programs like Vote HBCU were launched to increase voter registration at historically Black institutions, including Bowie State.
Some 65 percent of younger voters - Generation Z and Millennials - plan to "definitely vote" in the November election, according to a recent poll by PBS NewsHour, NPR and Marist.
State Del. Brooke Lierman, the Democratic nominee for comptroller, noted that a record number of seats are at stake in this election. "For the first time in nearly one hundred years, every statewide seat is open on the ballot at the same time," said Lierman, whose opponent in the comptroller race is Harford County Executive Barry Glassman. "And we haven't had an open seat for comptroller since 1998. I don't think any of you guys were born then. So this is a big deal," she said.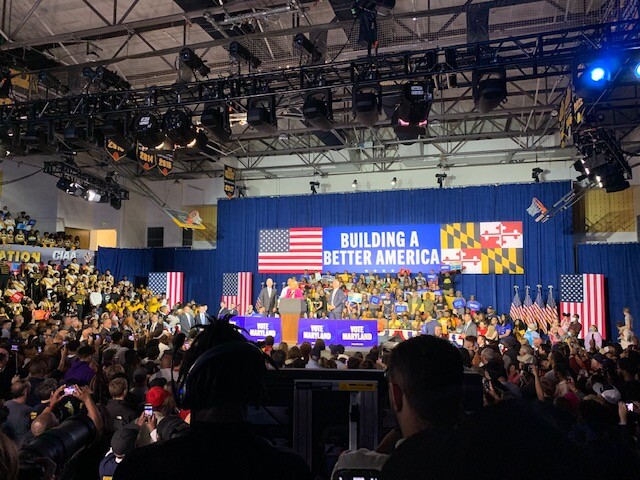 Future voters paying attention
Democrats not even old enough to vote were among the crowd lined up to hear from Biden and Moore.
"I'm just really involved. And I also just registered to vote because I'm turning 18 soon," Bowie High senior Savannah Grooms said, as she waited for Biden to take the stage. Grooms aspires to be a political journalist and has written articles on weighty topics, such as marijuana use and how a pregnant teen was affected by the overturning of abortion rights.
This is the third political rally that 10th grader Liya Shewakena of Beltsville has attended. The 15-year-old campaign door knocker caught the political bug by watching CNN during the COVID-19 quarantine. "I really got, like, so interested in these issues, and I realized how important it is to vote. So I made sure my family is registered. I'm ready to go with them on Tuesday."
Her 15-year-old friend Shelsea Castro, also of Beltsville, said she started paying attention to the news because of Shewakena's influence. Now, Castro regularly keeps up with issues on Univision.
Thanks to a teacher who introduced him to newspapers at an early age, 17-year-old Trey Somerville of St. Mary's County said, "I've always been a political enthusiast since I was in third grade." 
"You know on the news, we always see the radicals, we always see the people outside of polling places with guns, intimidating voters. We always see the chaos, but we never see this right here," Somerville said of "the silent majority who [don't] believe in the big lie that the election was stolen."
The junior at Leonardtown High School traveled to the rally with his dad. "My grandmother always tells me that, you know, the Millennials and Gen Z are probably going to be the generation that really makes some serious changes." The issues that concern him most are inflation and the failure to pass a ban on assault rifles due to "the NRA in the pocket of the politicians." The mass shooting in Uvalde "broke my heart," he said.
Biden touted Moore's plan to keep Maryland safe, which includes a ban on ghost guns.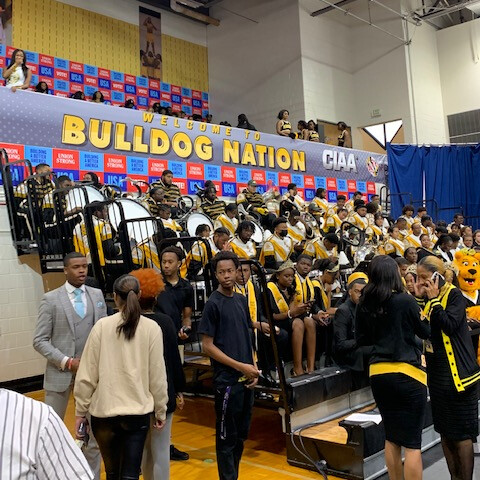 ---
---