'Chop shops' recruiting county youth, say officials in calling for anti-racketeering bill
Image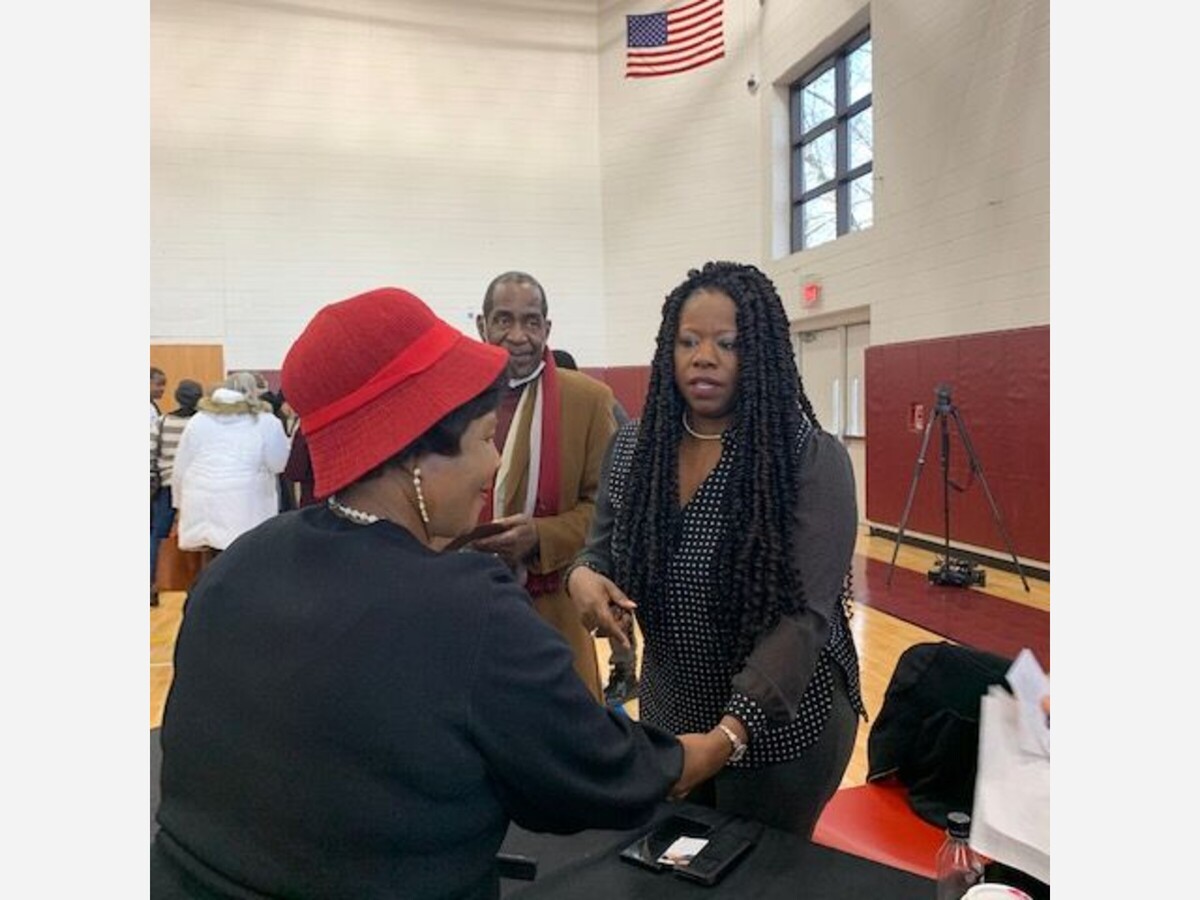 FORESTVILLE, Md. — Prince George's County State's Attorney Aisha Braveboy told area residents she is seeking anti-racketeering legislation to fight crime rings that are believed to be targeting youth.
The legislation is sponsored by state Sen. C. Anthony Muse on Braveboy's behalf, an aide to Muse confirmed. A hearing has not yet been scheduled on the bill.
The racketeering legislation is one of several legislative priorities that Braveboy identified in a press release dated Feb. 1. She is also seeking funding for a cannabis public awareness campaign to educate youth and adults about "potential negative health effects and risks of recreational use of cannabis," the release stated.
Speaking at a public safety forum Feb. 4, Braveboy said in opening remarks: "We are now working on a bill that will provide for the first time in Maryland the ability for us to really go after organized crime. So we're proposing the Maryland RICO statute this year."
She was referencing the Racketeer Influenced and Corrupt Organizations Act, a federal law known as RICO that makes it a crime to operate criminal enterprises such as illegal gambling, money laundering and drug trafficking. Some states have adopted variations of the law to prosecute racketeering cases locally, according to the Justice Department.
"The reason why RICO would be so helpful," Braveboy said at the forum, "...We see a lot of the young people getting arrested. But we know we're having fentanyl trafficked in our community, you know. We know we have guns trafficked in our community. We know that there are rings operating, you know, stealing air bags and other car parts."
In a 2021 blog, Baltimore criminal defense attorney Brandon Mead wrote that "RICO began as a way to prosecute leaders of organized crime syndicates who get others to do the dirty work for them."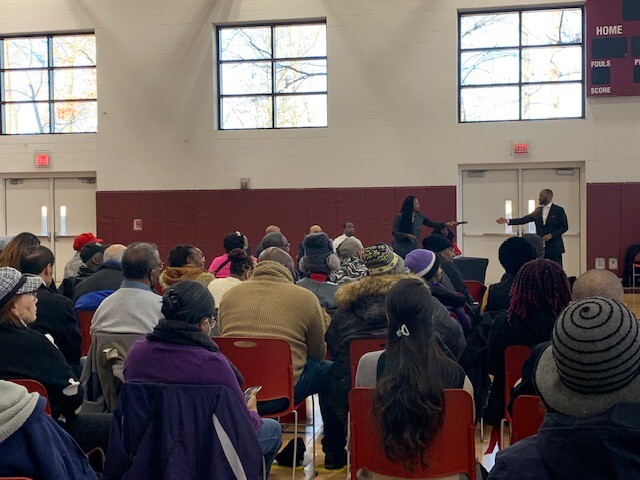 "So we want to be able to get those individuals who are directing this, who are financially benefiting from this, who are sending young people out to be the ones that get in trouble while they kind of are anonymous. We need to get all these players who are contributing to crime on our streets," Braveboy said.
Carjackings and 'chop shops'
Braveboy's office has linked carjackings to so-called chop shops that strip vehicles of their parts, such as catalytic converters, and sell them illegally.
"We're going to go up the chain and we're going to prosecute the people who are creating this market," Deputy State's Attorney Perry Paylor said at the forum. "This market is stimulating carjackings."
County prosecutors began seeing a sharp increase in carjackings about two years ago, prompting the formation of a carjacking task force, Paylor explained. The task force analyzes data to determine where carjackings occur, where to allocate resources, and what legislative requests to make, he said. "We've seen great success in that, and that kind of prompted us to support the Maryland RICO Act," Paylor said. 
Braveboy's office and Prince George's County Police could not immediately provide updated carjacking data since the summer, just before the juvenile curfew took effect.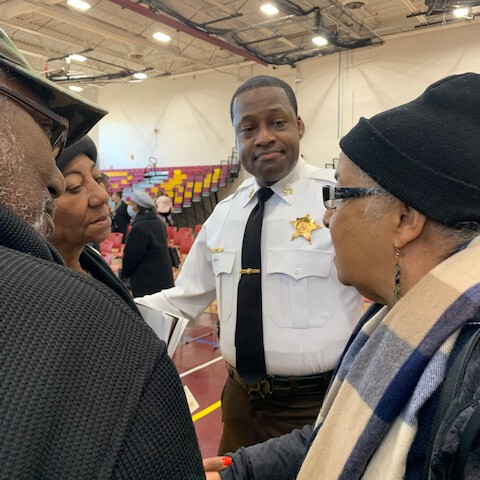 Three safety forums this month
More than 150 residents gathered for the public safety forum in Forestville that drew residents from the Bowie area, Upper Marlboro and other parts of Council District 6. They shared wide-ranging concerns about broken street lights, large parties, fatherlessness, juvenile crime, truancy and carjackings.
Bowie resident Lori Chrysostom told county officials, "We know that carjackings, car thefts and car vandalism, they're going up in the whole DMV." She asked if there were any promising strategies to address the problem. Braveboy pointed to the efforts of the carjacking task force and the stiff carjacking penalties she has sought, including a recent 20-year sentence involving an adult.
Prince George's County Council Vice Chair Wala Blegay organized the forum for her constituents in District 6, which includes Largo, Mitchellville and unincorporated parts of Bowie. The district has been hit by recent tragedies, including a fatal carjacking at a Largo gas station in December. "This is cyclical. We are constantly looking at crime in our community," Blegay said. "All of this has caused us to reach out to our public safety officials about what's being done," she said.
At-Large Council member Mel Franklin hosted a carjacking and youth crime forum Feb. 8 in Oxon Hill, while District 7 Council member Krystal Oriadha is hosting a virtual public safety town hall Feb. 22.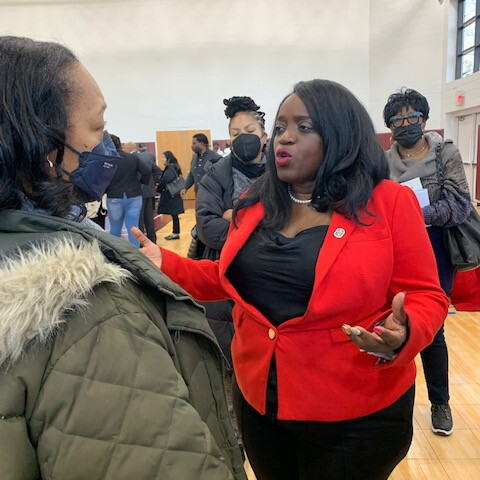 Saturday Academy intervention
Faced with police staffing shortages and rising crime, Braveboy is signaling a change in crime-fighting tactics with the racketeering bill
She also unveiled a plan for a Saturday Academy, an intervention program for truant youth and their parents. "We can call out the kid and their behavior, but what is the kid coming home to," Braveboy said, noting that some parents are dealing with addiction, mental health issues or struggling financially.
The Saturday intervention plan calls for schools to notify the court system early when a student is truant, Braveboy said. In many cases, she said her team will subpoena the attendance records of youth they are prosecuting and find that their attendance is "atrocious."
"When they're not at school, they're getting recruited," Jason R. Williams of Beltsville told county officials. He shared that he had served time but said he felt he didn't deserve to go to prison. "I ask you to show a heart to these young men."
Former prosecutor and newly elected Congressman Glenn Ivey told the audience, "For a lot of the kids, it's a lack of somebody giving them guidance." The Democrat, who represents portions of the Bowie area, shared a story about a Bowie businessman who served time in the past and whose sentence was reduced.
"You prosecuted me 15 years ago, but you gave me a little bit of a break on the jail time and helped me get into a program," Ivey recalls the man telling him several months ago at a campaign event in Greenbelt. "He went into the military, he went to college. He's married, he's got kids," he said, as residents applauded. "We look at these young people, but there's potential in every one of them," said Ivey, who is working with Rep. Steny Hoyer (D) to seek funding for violence reduction programs.
James McCreary, deputy chief in the Prince George's County Police Bureau of Patrol, said that in some instances a student arrested for a violent offense "is placed right back into the school." Police are working with judges and local agencies "to try to find a better system to get the children educated," he said.
McCreary added, "We need to make sure that they have purpose and make sure that they have opportunity, like Ms. Braveboy said, but also keep our student body safe."
School board member Branndon Jackson, whose district includes Ernest Just Middle School in Mitchellville, said he attended the forum to take "the pulse of the community." He added, "Hopefully, I can take some of the information back to the school board to see what type of legislation or what type of policies can I help implement on the school board."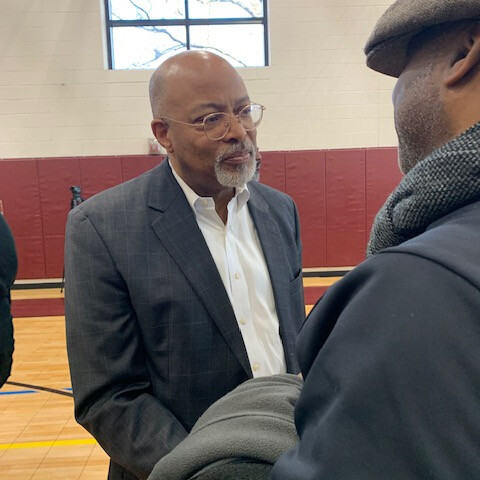 ---
---