Citizens see youth curfew as a way to slow rise in crime
Image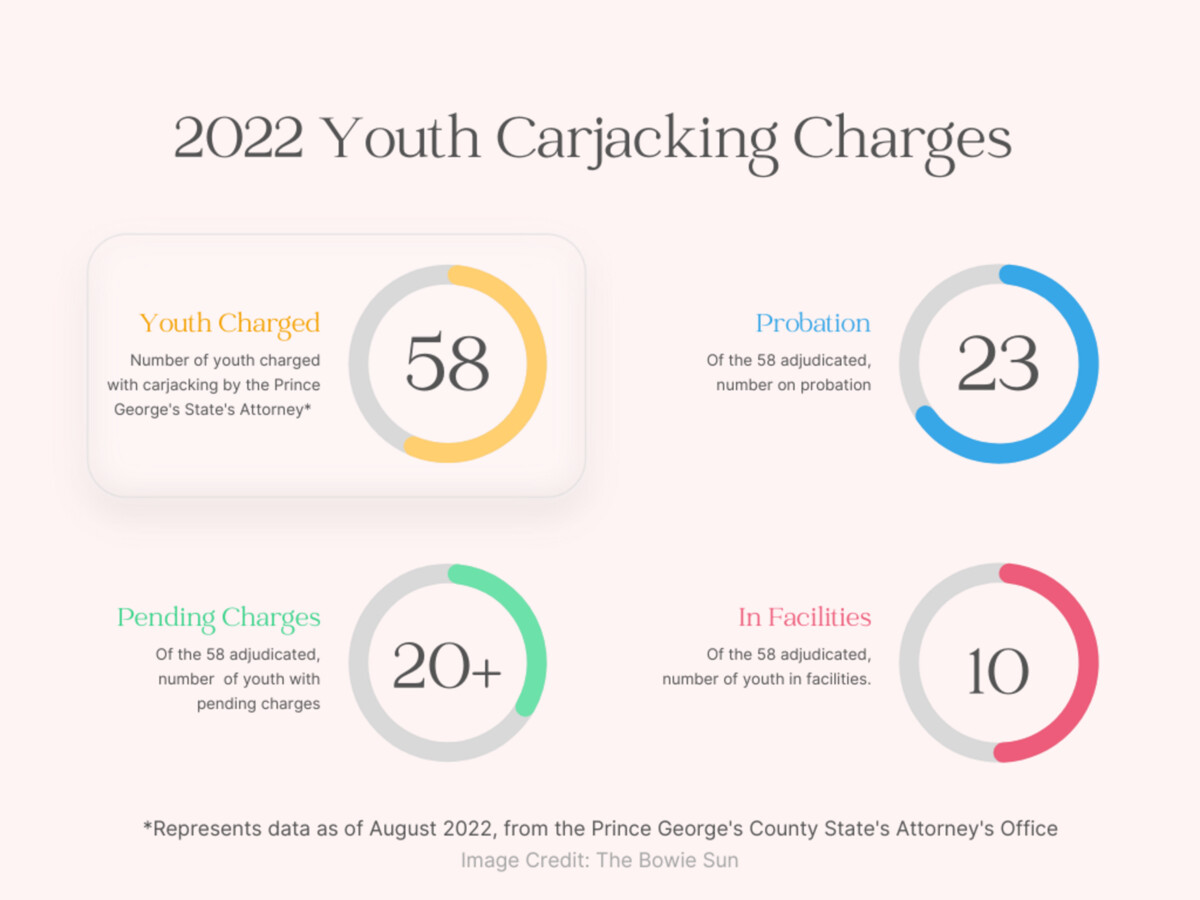 Bowie Sun interns Austin Cole and Emma Tufo contributed to this report. 
BOWIE, Md. - County Executive Angela Alsobrooks recently extended the youth curfew until the end of the year, welcome news for some local residents concerned about crime.
Escalating crime in the county prompted the curfew that took effect last month. "[B]etween 10 p.m. and 5 a.m. was when we saw 62% of our carjackings occur, and they were happening primarily at the hands of young people who were 16 and under. And that's the reason that the curfew made sense for us," Alsobrooks said at a news briefing Oct. 11.
In Bowie alone, there were seven carjackings this year and arrests have been made in three of the cases as of Oct. 19. Of the seven individuals arrested in those cases, six of them were juveniles aged 15-17, said Lieutenant John Knott of the Bowie Police Department. "We're increasing our patrols where they have occurred," Knott told the Bowie Sun. "They were all armed carjackings," he said, except for one case involving physical force at the Safeway parking lot.
Although studies have found that previous juvenile curfews did not stop violent crime, local residents reacted positively to news of the curfew.
Tech entrepreneur Stephen Byrd of Bowie said he was unaware that a curfew was in place but was pleased to hear about it. "I think the curfew is a great thing and they should keep it in effect. I mean, especially during the summer months," said Byrd, who had wheels stolen off one of his vehicles at his apartment complex in Bowie.
He added, "It's not always the young kids who's getting in trouble." Adults may be "setting them up to do this kind of stuff… They're using them, because that's who's been taking my wheels, is the older uncles or … their friends." A curfew could gradually reduce such crimes, Byrd said during an interview at Allen Pond Park.
Despite the recent spate of carjackings in the area, Byrd views Bowie as "a vibrant city" where he would like to start his next venture, a tech center for entrepreneurs. He is eyeing five locations for his "tech hubs," including Bowie Town Center and Upper Marlboro.
As he watched his daughter play at Allen Pond Park, David Crawley of Temple Hills said that where he lives, "We have to worry about carjackings. I'm in a gated community, so that helps." But he has to "always be cautious." A curfew, he said, would "cut out the riff-raff."
Crawley said he believes young people are mostly to blame for crime in the county. "Because when you're young, you're not mature, you do stupid things… So yeah, it's definitely the youth," he said.
County officers-not Bowie police-are enforcing the curfew. "This is a county municipal infraction. Therefore, we have elected to refrain from enforcing the curfew violation by use of the statute," Dwayne Preston, deputy chief of Bowie Police explained in an email.
County officers issued warnings to four youth during the curfew, Alsobrooks told reporters. "This was never to hunt down kids," she said. "That was never the objective. The objective was simply to ask parents to step in to be responsible for their children."
Exploring root causes
Robert Johnson, a Bowie resident and president of My Brother's Keeper Prince George's County Network, said that the curfew was "a step that needed to be taken" but not a long-term solution. "This curfew was something that was implemented to say, you know, let's try to slow this down a little bit, until we can get some parties to the table."
Johnson would like to see some of the root causes of juvenile crime addressed. "There are various causes to what's happening here… And that's why I believe that you have to have multiple agencies and different organizations sit down and really talk about this," Johnson said. Part of the discussion on juvenile crime needs to focus on the influence of alcohol and drugs, mental health, policing and poverty, Johnson said.
"It all starts at home in trying to dive down into the root cause of why that child is acting out the way that they are," said state Del. Darryl Barnes (D), founder and president of Men Aiming Higher in Mitchellville. Barnes would like to see a task force or more coordinated efforts to support parents, especially single parents working multiple jobs. "Where is that juvenile getting guidance from? His peers… because mom or dad is at work, or doing something else where they're not able to supervise that young person."
These parents, he said, may be in need of better employment, transportation, social services and other resources that various nonprofits and agencies can address. "But I don't know of one centralized place within the county that can help coordinate those efforts," said Barnes, whose district stretches from Upper Marlboro to Fort Washington. 
The curfew came after the county's deadliest month on record with 24 homicides in August. During the curfew, there was a 74% decline in homicides between August and September and a 59% decrease in carjackings, Alsobrooks said. "Our curfew was successful in many of the ways that we hoped. Not only did we engage parents in our community more deeply, but we were also able to provide greater protection to a number of our youth."
She acknowledged that it may be "premature" to say that the curfew alone was the exact reason for reduced crime, noting that officers were working more overtime during the curfew. "This is not mission accomplished; I've been very honest about that," Alsobrooks said. "We still have a lot of work to do."
Many factors can influence a drop in crime, such as cooperation from police in neighboring Virginia or D.C, greater dialogue with community partners and youth returning to school after summer break, Prince George's County Police Chief Malik Aziz said at the briefing. "The one thing that we need is… more community and parental involvement, because the police are not the singular source for public safety in the county. We're all in this together," Aziz said.
Braveboy defended her record
Prince George's County State's Attorney Aisha Braveboy launched a carjacking task force in 2021 to better coordinate across jurisdictions in carjacking cases. Yet Braveboy was noticeably absent from the curfew briefings. "It is disappointing not to have been invited to such an important press conference," Braveboy told reporters in September when the 30-day curfew was announced.
Braveboy has defended her record on prosecuting violent crime, touting her staff's 98% conviction rate for homicides in 2021 and indictments in 294 carjackings since 2019. Braveboy has also pointed out that judges ultimately have the final say and that new laws restrict how juvenile cases are handled. 
Asked about the rise in crime, Prince George's County Principal Deputy State's Attorney Jason Abbott said that during the pandemic, violent crime increased across the state, region and nation. "The fact that children were not physically in school for some time, the fact that there were less activities for children to take part in, there were less jobs for individuals, that created circumstances in which we saw spikes throughout the region in violent crime," Abbott told the Bowie Sun.
"Overall, you know, we think that the curfew was a tool amongst many tools that can be used to address the crime that we've seen in the community," Abbott said. "I think that it was more of a piece to the puzzle that we're all trying to figure out as we deal with crime within the community."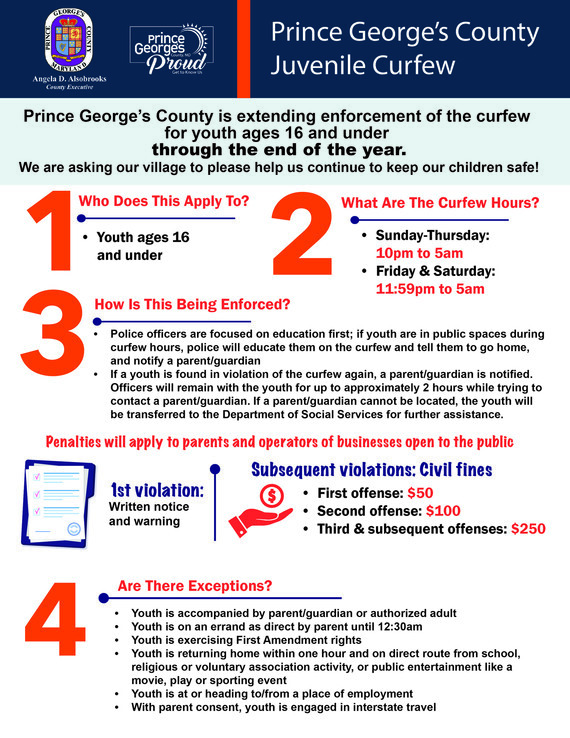 This article was updated Oct. 29 to include youth carjacking visual data.
---
---