Visiting a Maryland union hall, Biden touts economic initiatives
Image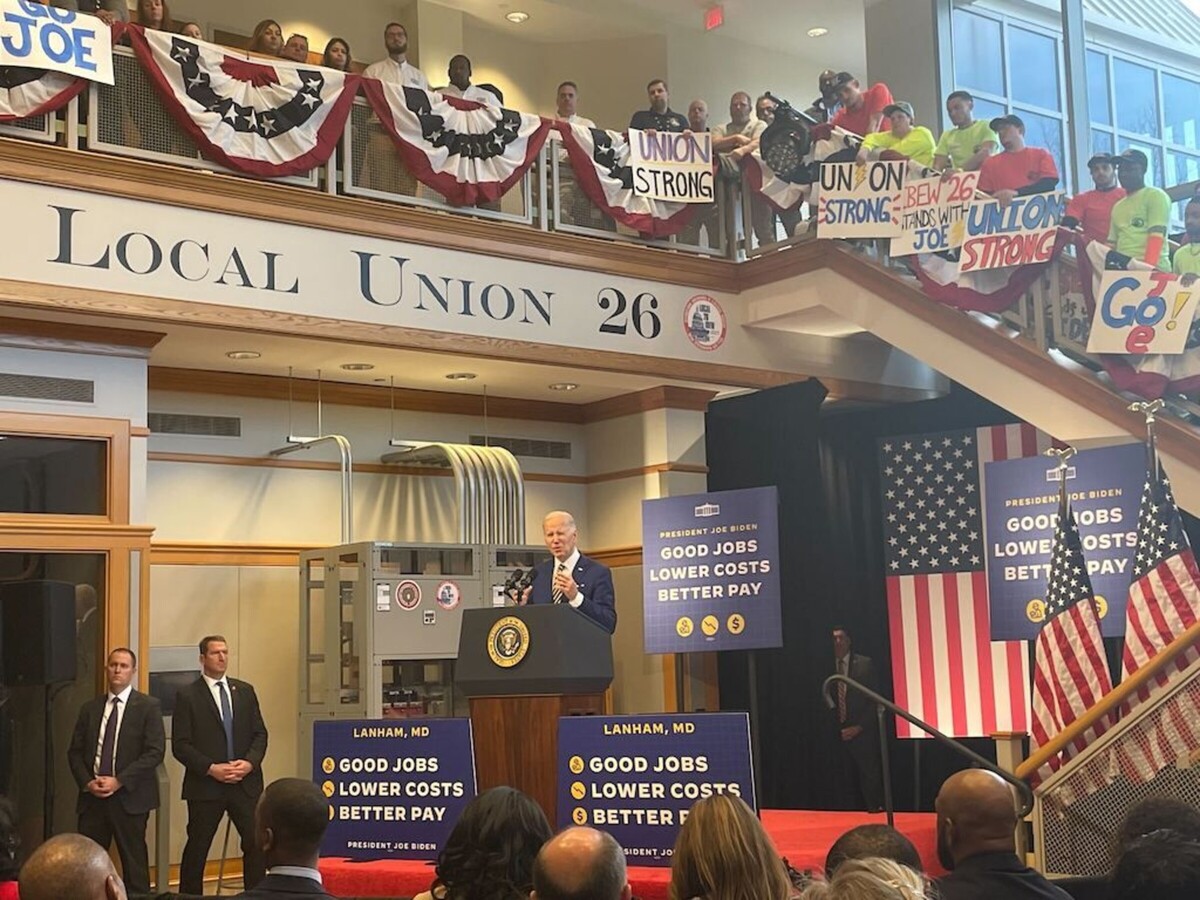 By Ian Decker and Yesenia Montenegro
Capital News Service

LANHAM, Md. - President Joe Biden highlighted several key points of his economic plan — improving infrastructure, funding accessible health care, emphasizing American manufacturing and lowering the deficit — during a speech Jan. 15 to friendly union workers.
"We got more work to do," Biden said at the International Brotherhood of Electrical Workers Local Union 26 here. "But it's never been a good idea to bet against America, and I can honestly say as I stand here today that I've never been more optimistic about America's future."
It was a familiar line in a 30-minute speech that echoed his State of the Union Address on Feb. 7. Biden also reiterated his pledge to protect Social Security and Medicare and tax Fortune 500 companies, part of what he is calling a "blue collar blueprint."
Accompanied by notable state and congressional leaders, including Maryland Gov. Wes Moore, Sen. Ben Cardin and Rep. Glenn Ivey, Biden also touted his efforts to reduce carbon emissions by building charging stations, improve transportation infrastructure - including replacing an aging railroad tunnel in Baltimore - and reduce the costs of prescription drugs such as insulin.
By contrast, "our Republican friends are doubling down on the same failed politics of the past: top-down, trickle-down economics. There is not much trickle-down…at most kitchen tables in America," the president said.
Ivey, who represents portions of Bowie, said he endorsed the president's message, saying there is a lot of positive news to spread, especially at the IBEW, which he said has been a backbone union in Prince George's County for ages.
"I think the key thing we're trying to do right now is make sure the American people hear about all the things that are coming," Ivey told Capital News Service, "from funds, reductions in costs from prescription drugs, infrastructure, build out spending, internet access, all of those things I think are important for him to tell."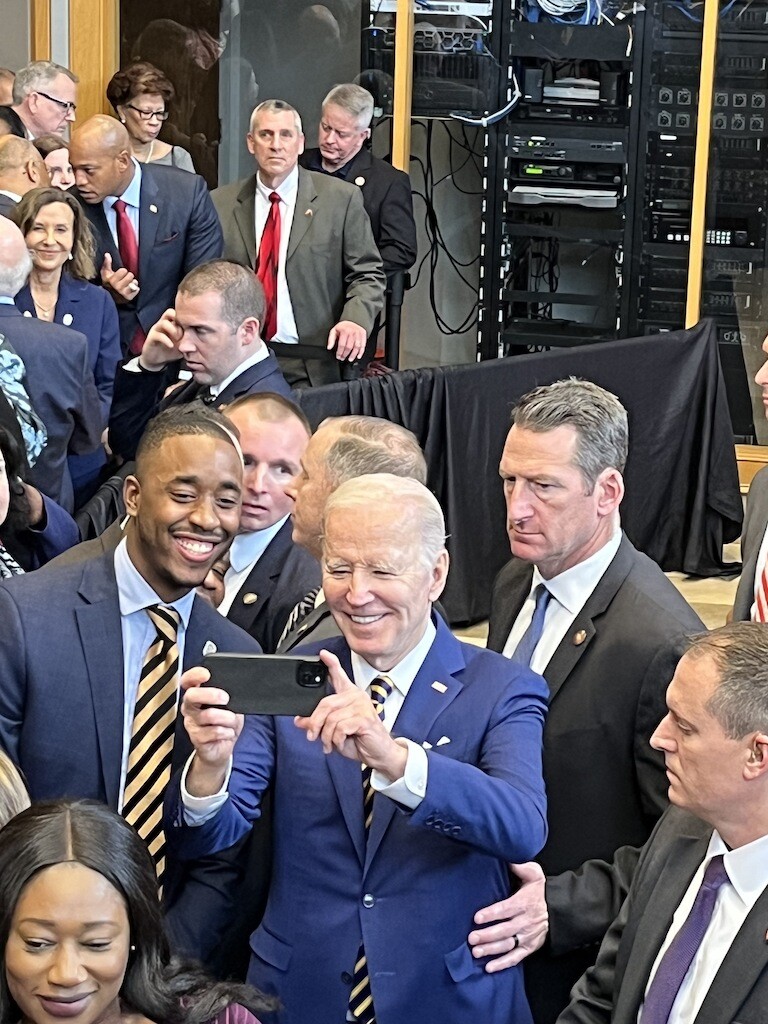 Biden repeated his call for Republican lawmakers to pass his proposal for a minimum billionaire tax and to increase the minimum tax requirements for billion-dollar companies.
"No billionaire should pay a lower tax than a school teacher," Biden said.
After criticizing the Trump administration for sending the country further into debt by enacting tax cuts for the wealthy, Biden said his proposed tax reforms involving large corporations would help decrease the U.S. deficit.
"If Republicans try to take away people's health care, increase costs within class families and push Americans into poverty, I'm gonna stop it," Biden said.
The union members positioned behind the president held signs with slogans such as "IBEW 26 Stands with Joe" and "IBEW + Biden = Perfect Union."
"Biden's very much been committed to the worker and especially to unions," B. Travis Brown, a fourth-year apprentice at IBEW, said in an interview with CNS. "It's great to see him continue to work on legislation that's going to help middle-class people and help families. That was one of the promises that he campaigned on, and it's just really nice to see him continuing to put that plan into action."
Roland Carter, president of IBEW Local 70, where he has been a member for 24 years, said he was grateful that the president came to speak to union workers.
"It's a big deal, especially for union workers and for workers, period. It's showing that he's not about a bunch of talk. He's about action… and it's trickling down to where it's supposed to be, to the middle class," he said.
"I hope it creates in the minds of the young people who are coming up behind us, that they have to continue to push for the same exact things that he's (Biden) is pushing for," Carter added.
Matt McLaughlin, a union member of Amalgamated Transit Union Local 1300 in Baltimore, said he felt reassured by Biden's speech, both as a union member and as someone who uses insulin.
"One thing that this country does is they tend to discard their seniors. We shouldn't do that," McLaughlin said.
Earlier in the day, Senate Minority Leader Mitch McConnell, R-Kentucky, offered a far different view of White House policies in a speech on the Senate floor.
"We've now had 21 straight months above 5% annual inflation. A mind-boggling policy failure," the senator said. "And what does the White House have to say about it? Yesterday the president's press secretary proclaimed, 'the president's economic plan is indeed working.'"
"So I guess the official White House position is that Democrats caused all this crushing inflation on purpose," McConnell said. "This is the kind of insanity that has left just 16% of Americans saying they're in a better financial position than they were two years ago."