US, SKorea unveil expanded space alliance
Image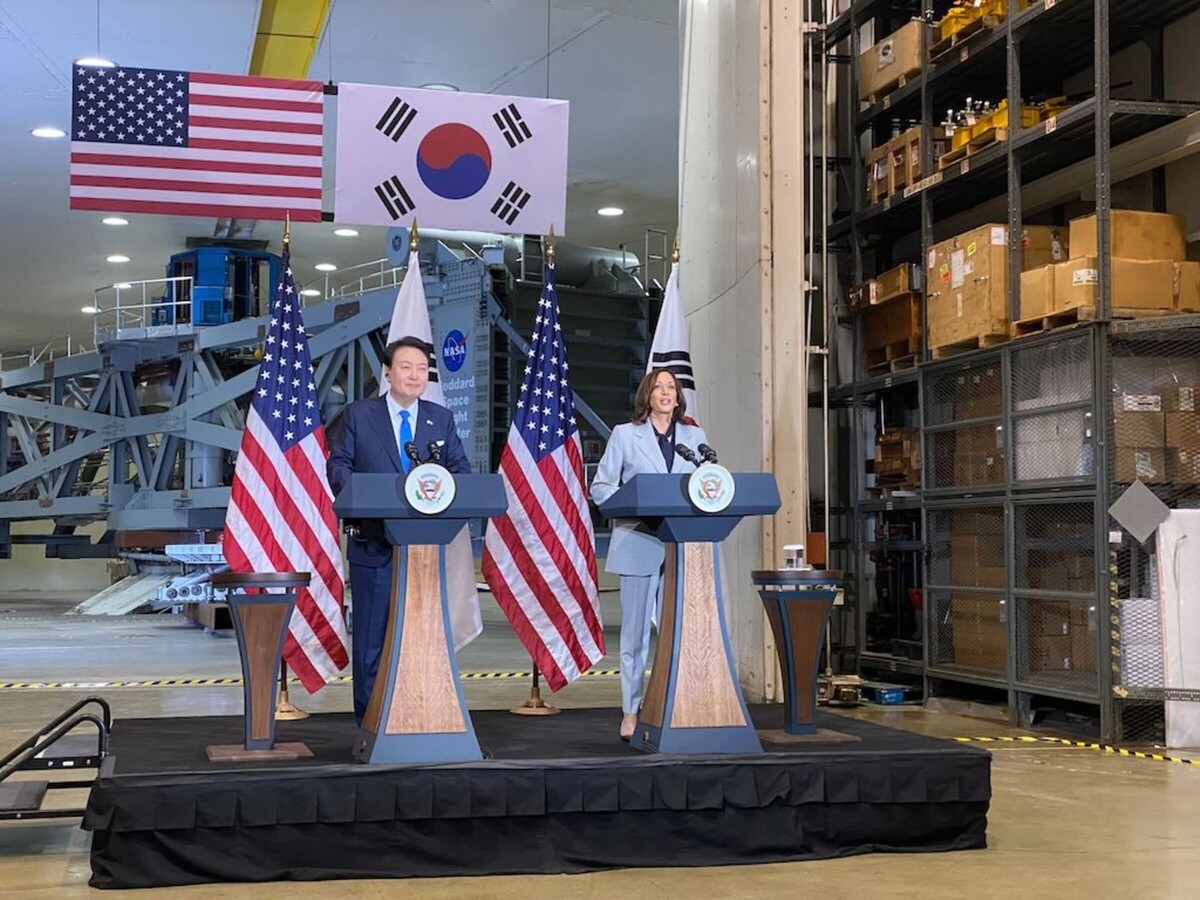 By Destiny Herbers
Capital News Service
GREENBELT, Md. – The United States and South Korea have signed an agreement to cooperate on space exploration, Vice President Kamala Harris announced April 25 at NASA's Goddard Space Flight Center.
The Joint Statement of Intent for Cooperation on Space Exploration and Science would enhance future space exploration through mutual areas of interest, including space communications and navigation, technology research on the Moon and astrophysics.
Harris was joined by South Korean President Yoon Suk Yeol on a tour of Goddard's facilities, where they received briefings on cooperative space efforts and discussed future partnerships in space.
"This year, we celebrate the 70th anniversary of the alliance between the United States and South Korea, which has been a linchpin of security and prosperity in the Indo-Pacific and around the world," Harris said.
The U.S.-South Korea space alliance is growing across sectors, including civil and commercial space travel and national security, Harris said, and the two nations also are strategizing to address the climate crisis together.
"Together our nations have built and placed satellites into orbit that can track air pollution in North America and Asia," said Harris said. "Today I have also directed the National Space Council, which I lead, to expand this network to ensure that it also covers the southern hemisphere.
Plan includes space 'ride-share'
Last year South Korea placed in lunar orbit a satellite that carries a high-resolution camera from NASA in search of water in shadowed areas on the Moon.
South Korea also plans to partner with NASA to send scientific payloads through NASA's Commercial Lunar Payload Services, which Harris considers "our version of a rideshare program for space exploration."
NASA and South Korea are expanding collaboration on the Artemis mission, which will send astronauts to the Moon for the first time in 50 years, and will provide groundwork for future missions to Mars.
Yoon said he is "delighted" that the Artemis program is off to a successful start, adding that he was inspired by his visit to Goddard to continue pursuing space exploration.
Korean version of NASA underway
"I've always believed that mankind's future lies in space, and with that conviction in mind, last year I laid out the space economy roadmap," Yoon said. "Under that vision, we are in the process of establishing a Korean version of NASA."
The joint statement will "serve as a springboard" for taking the United States and South Korea, as well as their allies, to a "next level" space alliance for exploration and peaceful use of outer space, Yoon said.
"Our task is to work together to guide your humanity forward, safely and sustainably and peacefully, into this new frontier," Harris said.