In her bid for state Senate, Raaheela Ahmed is calling out 'disrupters' of democracy
Image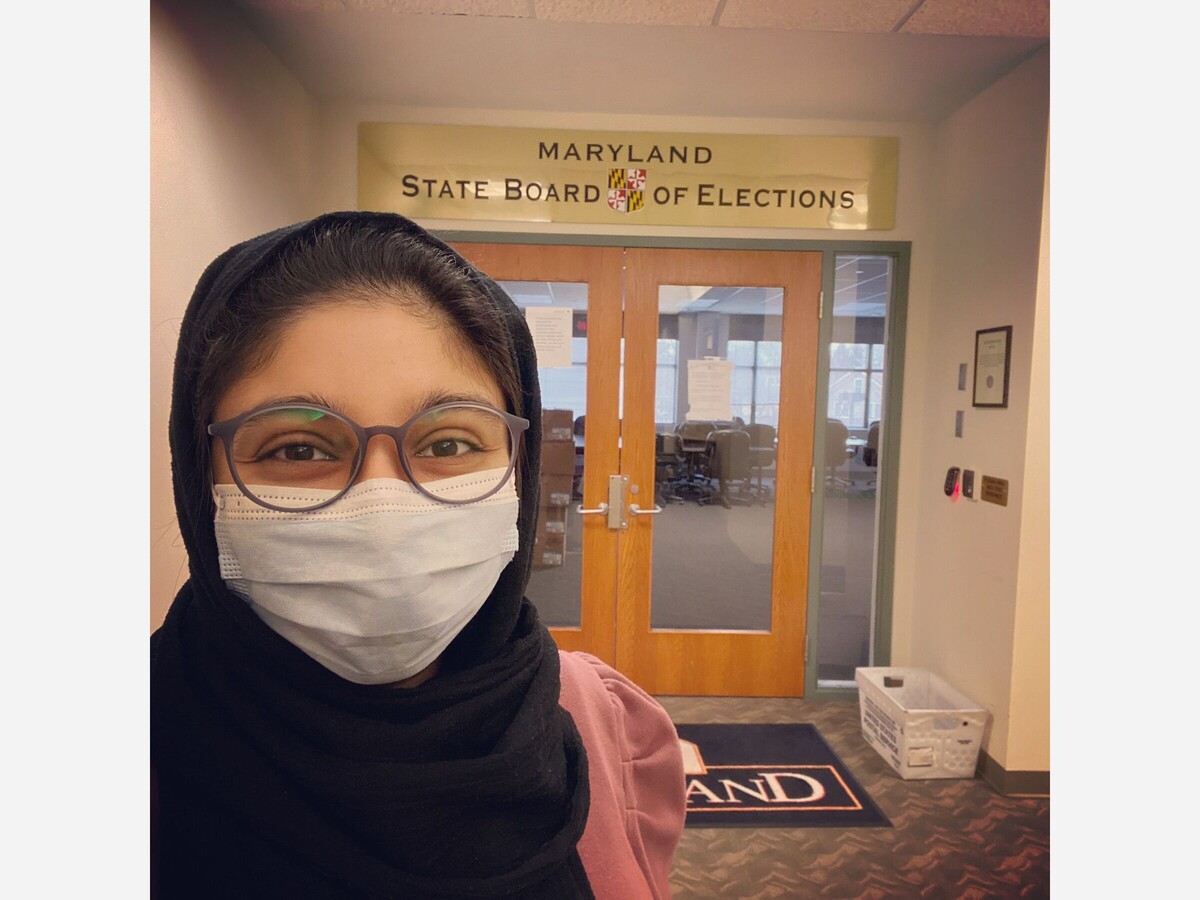 BOWIE, Md. - Outspoken former school board member Raaheela Ahmed of Bowie has a message for the political establishment: Stop disrupting democracy.
After five years representing Bowie, Mitchellville and Upper Marlboro on the school board, Ahmed said, "It became very, very clear that if we want the changes needed in terms of governance, in terms of democracy, in terms of educational reform, I had to move up. I had to step up into greater leadership."
"This is about living my democratic values," the 28-year-old said.
Citing "bad governance" on the Prince George's County school board and "undemocratic" tactics in Annapolis, Ahmed resigned from her District 5 school board seat Feb. 19 to enter the state Senate race as "a voice for progressive change."
"Our community has not had a history of progressive leadership. And for me, jumping into the race now means that the community has that opportunity to elect someone that's going to be a champion for them, a voice for progressive change," Ahmed said. The former University System of Maryland student regent rolled out a progressive platform that includes equity in education, criminal justice reform, universal health care and strengthening democracy.
As a school board member, Ahmed pushed for several progressive policies and initiatives. She opposed student arrests by school security officers and instead supported reallocating security funds for student mental health. The daughter of Indian-Pakistani immigrants also sought protections for immigrant and transgender students, a Black Lives Matter week of action, and cultural and ethnic studies as a graduation requirement.
Ahmed first ran for school board at age 18, won the primary but lost the general election. Elected in 2016, she and other elected members of the school board often were at odds with appointed members. Last month, a task force recommended a return to a fully elected school board and several other changes. "Going back to a fully elected board is good progress," Ahmed acknowledged. But that change alone, she said, "doesn't correct some of the key issues contributing to bad governance."
She noted that the county executive still appoints the superintendent and any elected board vacancy. And a supermajority vote is required to overturn the superintendent's actions. No other school district in the state has such laws, Ahmed said. "These laws are unique to Prince George's County Board of Education," she said, designed to keep "concentrated control at the top."
"It's just so hard for me to be in a space where I can't do more than my capacity as an individual board member on a board that legislatively does not have a lot of power," Ahmed said.
Changes in state law would be required to alter the makeup of the school board. A House bill would require a workgroup to study school board membership with a final report due next year.
Making the case for special elections
Ahmed ultimately would like to see special elections rather than appointments to fill vacancies on the school board. As it stands now, her replacement on the school board would be appointed by the county executive.
In Ahmed's view, there are too many unelected leaders even within the legislative ranks. Between 1997-2022, there were more than 100 appointed members of the state House and Senate, according to the Maryland State Archives. Some appointed state senators were previously elected delegates. Still, about 25% of the current House and 30% of the current Senate started off as appointees, based on figures cited by Ahmed.
"So we have a system, a semi-democracy in our state, in which, a Congress member that's leaving, we're going to have a special election. [In] most cases for the county council, if a person resigns… there's a special election. But for state office, we're not going to have a special election?" Ahmed asked.
"It's like we're giving a pass for the status quo to occur," she added. "We're giving a pass for the political establishment to select our leaders. And this is just not okay."
Democratic Sen. Ron Watson of Upper Marlboro was appointed to his seat last year. He previously was elected as a state delegate before filling the seat of Sen. Doug Peters, who joined the University System of Maryland Board of Regents.
Watson bristled at being cast as part of the establishment or status quo. "When I ran, I ran against the ticket. I ran against the status quo, and I won," he said. Elected as a delegate in 2018, Watson won the most votes in the Democratic primary against incumbents Del. Marvin Holmes, Jr., and Del. Joseph Vallario, Jr., who served as a delegate for over 40 years. "I am honored to be supported by so many people who felt that I was the right person to lead this district," Watson said.
A former vice chair of the school board, Watson pointed out that he and Del. Julian Ivey introduced separate bills last year to create an all-elected school board, but the bills died due to lack of support. "So I have always been an advocate for an all-elected school board. I was on an all-elected school board. I fought for that; I continue to fight for that," he said.
A special elections bill that applies to vacancies in the General Assembly unanimously passed the state Senate in January and is headed for a hearing in the House Ways and Means Committee later this month. The legislation has grabbed the attention of democracy organizations opposed to political insiders picking appointments. The county Democratic Central Committee last year nominated Watson to fill the state Senate vacancy, leaving his delegate seat open. The central committee named Cheryl Landis to fill the delegate seat.
"Maryland is just one of a couple of states that has these sorts of laws that rely on a political party [in] the appointment process. And it's just really time to democratize that process so Marylanders can weigh in on who represents them in the General Assembly," Rishi Shah, a policy advocate for Maryland Public Interest Research Group, said.
Sylvia Johnson, a former government scientist vying for state Senate in District 23, said the "lack of elected officials" is among the concerns she has heard from voters. "They don't feel heard," she said. "The people have a right to decide who they want to represent them."
As Ahmed put it, "People select leaders and those leaders in turn… serve the community. It's a cycle. Some of these, for lack of a better term, some of these undemocratic things are disrupting the cycle."
Questioning redistricting map
Redrawing legislative maps "to maneuver lines to control competition" is another concern for Ahmed, who is the deputy director of the nonprofit Campus Vote Project, a group focused on voting and redistricting within college communities. "Seeing and understanding how maps were distorted across different states, I knew in my heart of hearts this is not something that is unique to a red state. This is not something that's unique to a purple state. This can also happen in a blue state," she said.
Ahmed and her spouse went house hunting this past summer with affordability—and redistricting—in mind. They settled on a home near Bowie City Hall, a spot viewed as safe from being carved out of the legislative district. "I said there's no way they're going to carve out anything from near Bowie City Hall."
Prior to her move, she had been living with her parents. Her father Shukoor Ahmed of Bowie has run for office five times. Both he and his younger daughter Shabnam Ahmed, previously ran for state delegate in District 23. To their dismay, Ahmed's father and sister learned that their shared address was no longer in District 23 under the new legislative map. They are now part of District 24.
"It's upsetting," said Ahmed's sister Shabnam, who was open to the possibility of running again for delegate in District 23. "Things have obviously changed… Technically, I'm not even in the district anymore." When Shabnam ran against incumbent state Del. Geraldine Valentino-Smith in 2018, she lost by 42 votes in the Democratic primary.
A member of the Prince George's County Human Relations Commission, Johnson is a Bowie resident whose address in campaign finance reports falls outside the lines of the recently redrawn district. The new map was passed by the General Assembly in January well after Johnson had filed as a candidate and spent tens of thousands of dollars on her state Senate campaign. However, Johnson has an apartment address near Bowie City Hall that remains solidly within District 23. "The redistricting did a whole lot to everybody," Johnson said. "I know that there's a lot of lawsuits… I don't know how that's gonna go. But I knew what I had to do, and so I reside in 23 within the guidelines. I'm in the district."
Fair Maps Maryland filed a lawsuit in February in Maryland's highest court challenging several redrawn legislative districts, including District 23. In its petition, the organization called on the court to declare the new map unconstitutional and adopt an alternative created by a citizens commission. "When we were told to ignore the interests of incumbents, by golly we ignored the interests of incumbents," Walter Olson, co-chair of the Citizens Redistricting Commission, said at a joint House and Senate redistricting committee hearing in January.
The map under legal challenge was created by the Legislative Redistricting Commission, chaired by Karl Aro. The map takes into account "a good deal of public input" as well as population shifts, Aro told the redistricting panel. "While no map is perfect," he said, "one of the goals was to preserve the core of existing districts to the extent practical… And we did the best we could with trying to keep communities of interest together." Aro added, "I don't believe this plan is gerrymandered."
The legislative redistricting map is headed for a hearing in the Court of Appeals of Maryland later this month. The court heard oral arguments this week in a separate case involving Prince George's County redistricting, which shifted some politicians outside of their districts and was thrown out by a lower court Jan. 31.