Mayor Adams reelected, Brady back on council
Image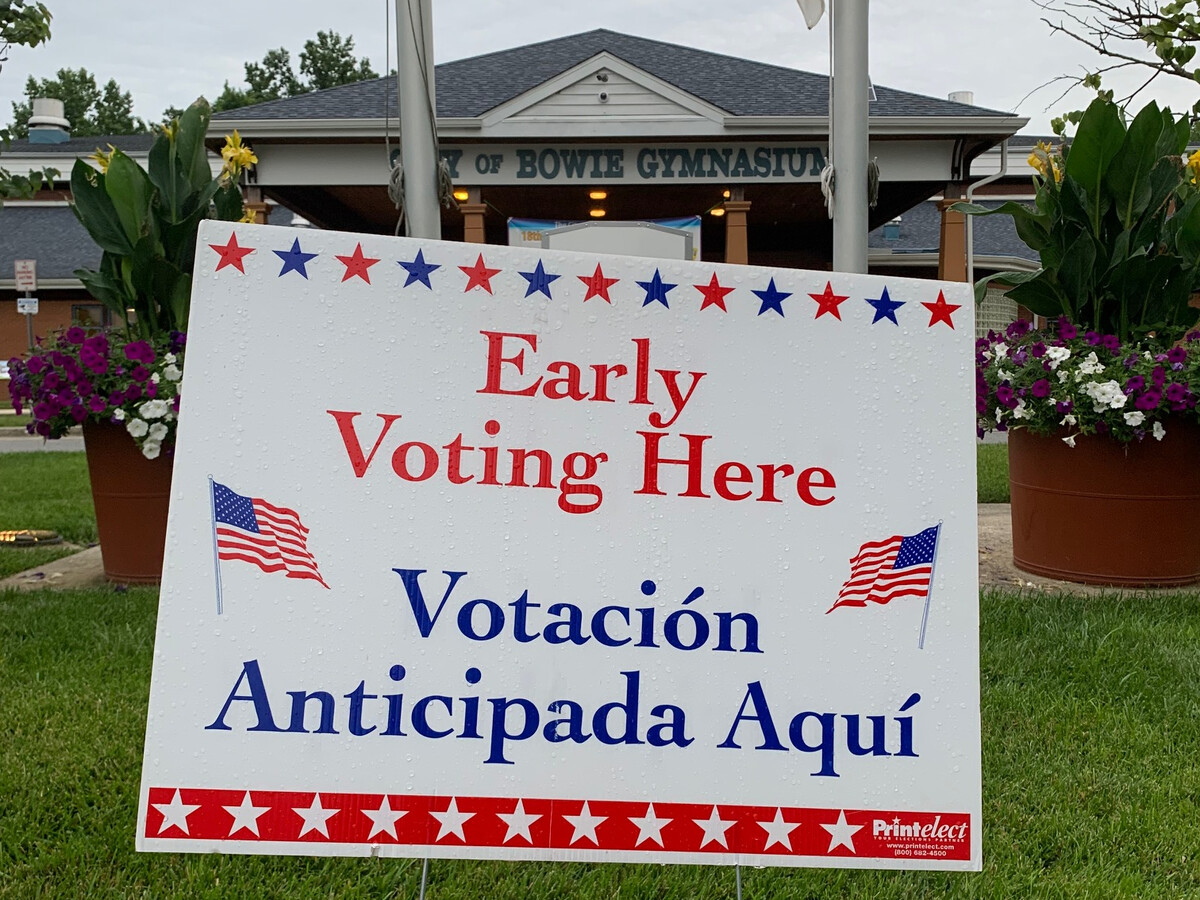 Mayor Tim Adams, who has been Bowie mayor since 2019, handily won reelection with 4,821 votes over Troy Stewart, who had 1,758 votes, according to unofficial results.
Adams indicated that public safety and the city's finances are key priorities. "We need to do everything we can to keep citizens safe," Adams said in an interview before the election. "We have to make sure we remain fiscally responsible."
In 2018 Adams ran for Maryland state Senate and during his time as Mayor in 2022 he ran for Maryland Comptroller. The founder and CEO of a defense contracting firm was unsuccessful in his bids for higher office.
When Adams was elected in 2019, he became the first Black mayor in Bowie's 138-year history.
Winners in this year's election will be sworn in Nov. 20 at a special council meeting.
Running as a slate
Newly elected At-Large Councilmembers Wanda Rogers and Dennis Brady, District 1 Councilmember Michael Estève, District 2 Councilmember Doufour Woolfley and District 4 candidate Robert Day ran as a slate, encouraging voters to pick all five.
They were successful in getting four of five elected; the only member of the slate to lose their seat was Day. A newcomer to Bowie, Day previously served on the College Park City Council.
Estève won his third consecutive election for District 1 by 781 votes, according to unofficial results.
Brady is back
After losing two elections for mayor in 2015 and 2019, Brady will be back on the city council. A retired engineer, Brady served on the Bowie City Council for more than two decades, from 1994 up until 2015. In 2002, he was elected to one of the two newly created at-large seats on the council.
Vying for the two at-large seats, Brady and Rogers beat out their younger competitors: lawyer Preston Thomas III, 31, and lobbyist Jarryd Hawkins, 35. Hawkins was appointed to an at-large seat on the city council earlier this year, filling a vacancy due to the departure of Ingrid Watson. But he came up short trying to hold onto his post.
Rogers owns a real estate brokerage in Pointer Ridge and is president of the Greater Bowie Chamber of Commerce. She had not previously served on the council, but she managed the successful campaign of Kym Taylor, who won a seat as a state delegate in Maryland District 23.
Altercation outside Bowie Gym
One of the current at-large council members, Henri Gardner was the only member of the Bowie City council who did not seek reelection. Gardner was present at the Bowie Gymnasium polling site Nov. 7 when an altercation broke out between him and Roger's spouse and Bowie Police were called to the scene, WUSA 9 reported.
Bowie Police and Gardner could not immediately respond to The Bowie Sun's late-night request for comment on the incident.
Turnout down this year
During a candidate forum Oct. 26, former Bowie Mayor Gary Allen remarked how close Bowie elections historically have been over the years. Having lived in Bowie since 1966, he said: "I want to tell you that some of those elections have been decided by a single vote and a great many of them have been decided by fewer than a hundred votes."
The closest election in 2019 was the District 4 race, which was decided by 16 votes and was once again won by 30-year-old Roxy Ndebumadu. In 2023 she won by 221 votes, based on the unofficial results before certification.
This year, the closest election was in District 3 where Clinton Truesdale won by 186 votes over Iyamide House and Babatunde Alegbeleye. Truesdale was appointed to serve on the city council earlier this year after the departure of Adrian Boafo, who won a seat as a state delegate.
Voter turnout for the city's 2023 election was unofficially 15%. That's a 7% decrease compared to the election in 2019 when turnout was 22%. In the 2015 election, voter turnout was 17%.
---
ELECTION RESULTS
---
The following list represents the unofficial election results posted by the City of Bowie for Mayor, At-Large seats and District. The votes still need to be certified by the Board of Elections.
Mayor:
Tim Adams - 4,821 votes
Troy Stewart - 1,758 votes
At-Large Council Members:
Wanda Rogers - 4,263
Dennis Brady - 3,831
Preston Thomas III - 2,166
Jarryd Hawkins - 2,126
District 1:
Michael Esteve - 1,261
Jenmaire Dewberry - 480
District 2:
Dufour Woolfley - 1088
Monica Roebuck - 470
Lisa Martin - 279
District 3:
Clinton Truesdale - 749
Iyamide House - 608
Babatunde Alegbeleye - 214
District 4:
Roxy Ndebumadu - 918
Robert W. Day, Sr. - 697
Craig Muckle - 192
---
Correction: Due to an editing error, Troy Stewart was misidentified in an earlier version of this story.