It's a three-way race in Bowie City Council District 4
Image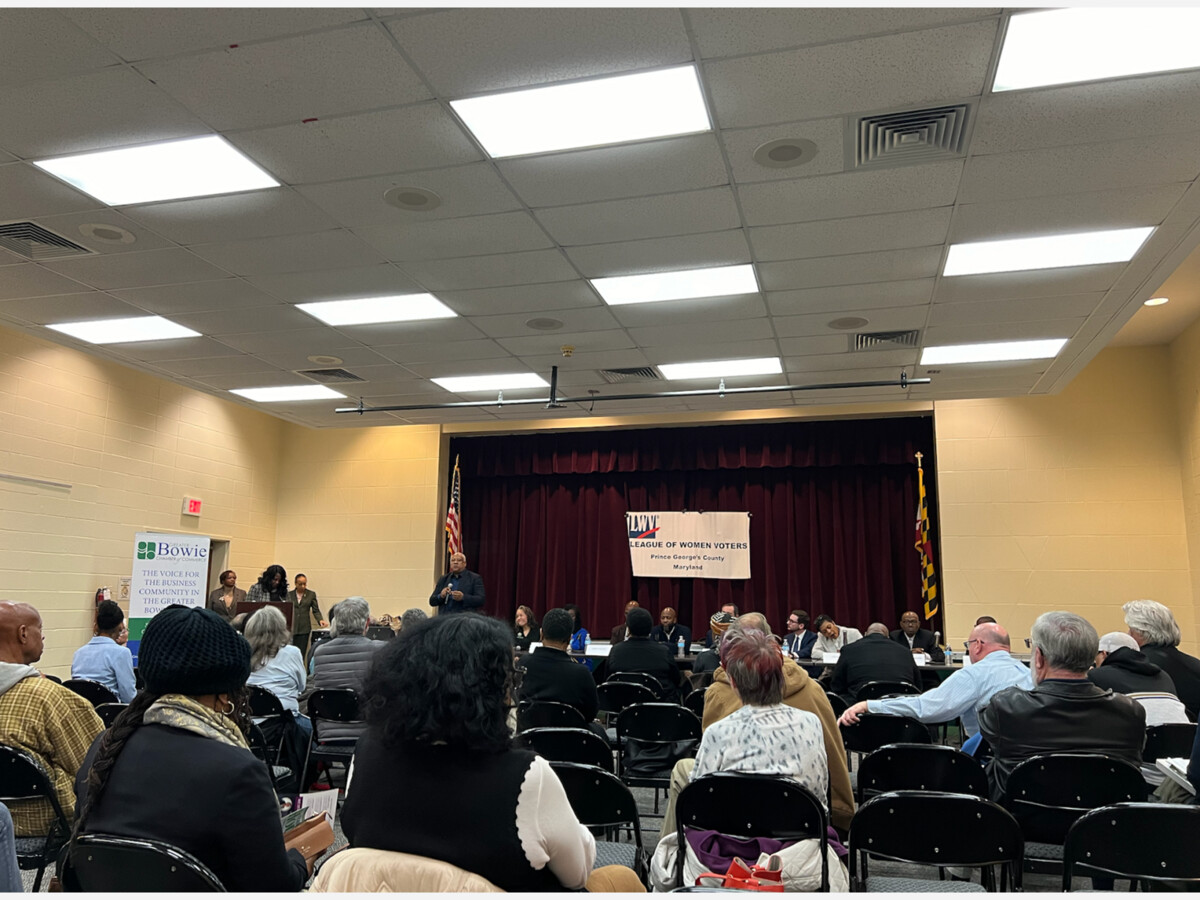 By Brendan Weissel

16 votes decided the District 4 Bowie City Council election in 2019, with Roxy Ndebumadu becoming the youngest woman ever elected to serve on the council at 26 years old, according to the Bowie City Council website.
"I was the second-to-last person to register in the race," said Ndebumadu, "I was shocked when I got elected."
Election results from 2019 show that Ndebumadu had 717 votes, Leon Buck had 701 and Derrick Mallard had 697.
In the Bowie election Nov. 7, incumbent Roxy Ndebumadu is seeking to hold onto her seat in the south Bowie district where she faces two challengers: former College Park City Council member Robert Day and career public relations professional Craig Muckle.
On election day, polling locations will be open from 7 a.m. to 8 p.m. and registered voters can make their selections for Bowie Mayor, two At-Large council members, and a council member in their district. Each race is contested by multiple candidates.
The last election for these seats took place in 2019. All members of the current Bowie City Council are running to keep their seats except for current At-Large Council Member Henri Gardner, according to candidate filing records.
Earlier this year, District 3 Council member Clinton Truesdale and At-Large Council Member Jarryd Hawkins were appointed to the Bowie City Council due to the departure of Adrian Boafo and Ingrid Watson. Boafo is now serving as a state delegate in Annapolis and Watson is a member of the Prince George's County Council.
In this year's District 4 race, the three candidates have experience running for office.
Roxy Ndebumadu - Incumbent
Ndebumadu was successful in her first-ever election in 2019 and she currently serves as mayor pro-tem and District 4 council member.
30-year-old Ndebumadu who has lived in Bowie since 1999 first ran for office in 2019 because she wanted to give back to her community that she says raised her.
"I would be remiss to not want to step up and try to give back and try to change it for the better," Ndebumadu said.
Earlier in 2023 Ndebumadu founded a startup that focuses on using artificial intelligence to promote human development and cognitive resiliency, she said.
Before that, she worked at Microsoft where she spent the majority of her time working in digital transformation across the commercial and government sectors, as well as working at Twitch, according to an interview with Ndebumadu.
She currently serves on the Maryland State Board of Waterworks and Waste System Operators, the Prince Georges County Board for African Diaspora, and formerly served on the Maryland State Board of Affordable Housing, Ndebumadu said in an interview.
Ndebumadu says she was the driving force behind Juneteenth becoming a holiday in the city of Bowie.
She hopes to "change the culture of what our kids think is cool," to help reduce crimes being committed by the youth in the community. Ndebumadu said she hopes to do this by expanding youth programming by creating coworking spaces.
Ndebumadu said she is interested in increasing the number of police officers by building a consistent pipeline of workers, one way she said she hopes to do this is by partnering with local universities.
"I don't believe in taking on things for ego or ceremonial reasons. I'm going to do it with my heart and I'm going to do it to the best of my abilities," said Ndebumadu.
Robert Day Sr.
Day, 59 moved to Bowie in April of 2022 and had previously lived in College Park.
He was part of the College Park City Council for 10 years until he lost his 6th election in 2021.
"The issues that Bowie is facing right now are the exact same issues and the exact same concerns with a little nuances here and there, that I had to deal with in College Park," Day said.
Although Day has not lived in Bowie as long as the other candidates running for District 4, he said he has multiple family members who live in Bowie, so he is familiar with the area.
Day said he specifically feels his work with developers in College Park will help him with that same issue in Bowie.
He is currently a Senior Technical Project Manager at Howard University and the Chair of College Park Academy, according to an interview with Day.
Day said he is running with a slate of candidates who have all endorsed each other: District 1 Council Member Michael Esteve, District 2 Council Member Dufour Woolfley and At-Large candidates Wanda Rogers, who serves as president of the Greater Bowie Chamber of Commerce, and former Bowie City Council Member Dennis Brady.
"We have the fifth largest city in the state," said Day. "We need to be acting like we got some knowledge and some understanding. And I don't think this (current) council has that."
Craig Muckle
Muckle, 64 has lived in Bowie for 25 years and the 2023 election will be his second time running for Bowie City Council; he also ran in 2015.
Muckle was unsuccessful in previous attempts to gain a seat on the council by filling a vacancy, he said.
Most recently, he sought the At-Large vacancy that opened in December 2022, filled by Jarryd Hawkins, according to city documents.
Muckle said his experience in public office comes from his time on the Prince George's Chamber of Commerce, which he has been a part of for 30 years.
If elected, Muckle said he would draw on his 18 years of experience representing Safeway in community meetings about building new stores. Those conversations with municipalities and residents focus on topics such as environmentally sustainable structures and improvements to traffic, he said.
"I have a skill set because I worked at Safeway, and before that Rite Aid that I think could be helpful in these conversations."
In 2015 Muckle received 429 votes (28.39%), but is hoping 2023 will be his year. "I've lived in this city a very long time; I'd like an opportunity to work on their behalf," Muckle said.
---
The full list of candidates for Mayor and Bowie City Council  can be found on the city website: https://www.cityofbowie.org/1134/Candidates-Filed-for-2023-Election