Maryland's stricter gun laws await Moore's signature
Image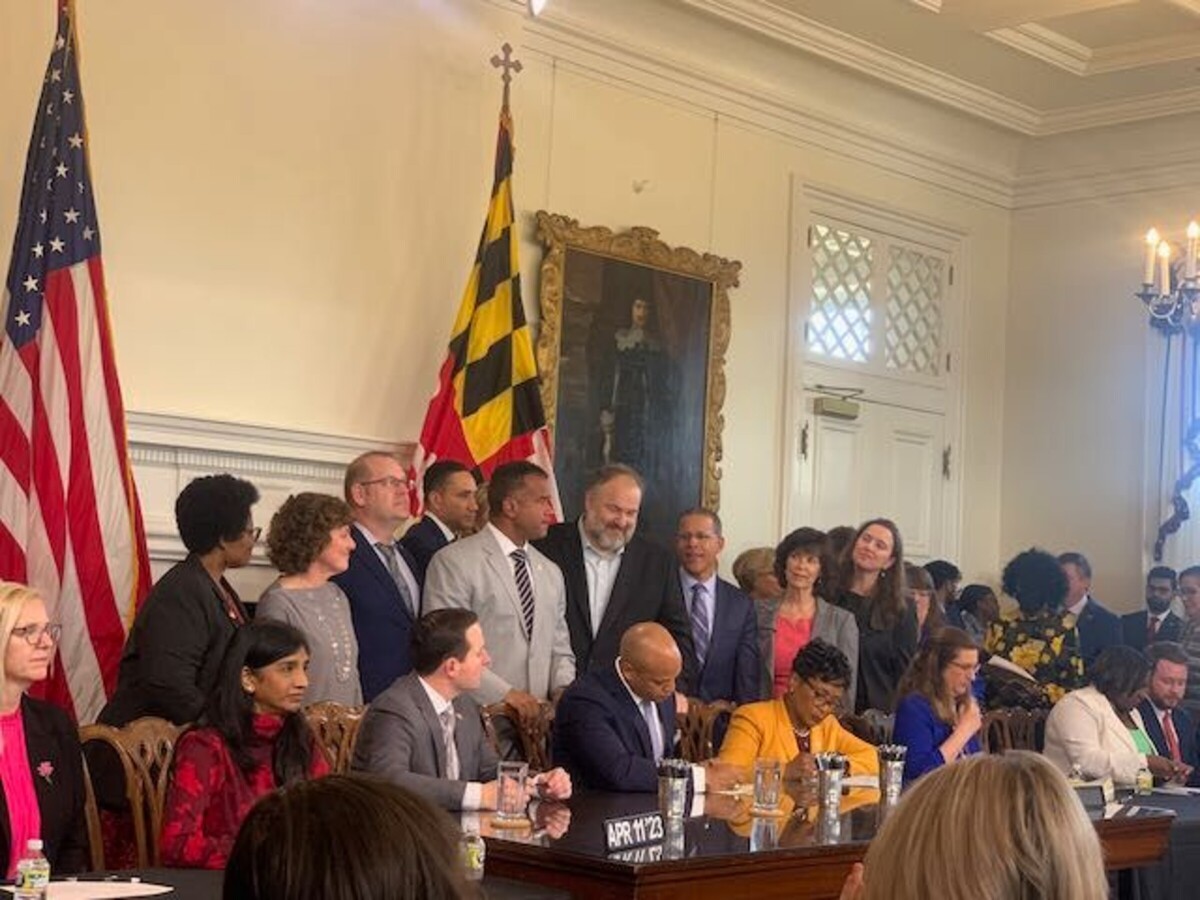 By Jennifer Gable
Capital News Service
ANNAPOLIS, Md.- Picking up your child from school with your gun in your handbag? Heading to the bar for a drink with your handgun in a concealed holster? 
Even with a concealed carry permit, both scenarios would likely be prohibited this October now that the Maryland General Assembly has passed legislation tightening gun laws. The legislation comes despite heavy pushback from Republican lawmakers.
Three gun bills are now headed to the governor, who is expected to sign them into law.  The bills passed in the final days of the legislative session, one in the final hours, but not without heated debate.
The bill package, particularly SB 1, places limits on where a gun can be carried and "creates among the strongest gun violence prevention legislation in the country," said Sen. Jeff Waldstreicher, D-Montgomery, who originally sponsored the bill with then-Sen. Susan Lee, D-Montgomery. 
"It is also without question, the strongest gun violence prevention legislation that we've had since 2013," he said, referring to the year the controversial Firearm Safety Act was signed into law. That law banned assault-style weapons and placed limits on magazines larger than 10 rounds.
The newly passed SB1, titled the Gun Safety Act of 2023, cleared the House April 10 on the final day of Maryland's 90-day session. The bill would prohibit individuals from knowingly wearing, carrying or transporting a firearm onto private property without consent. 
It would also prohibit guns in specified areas such as health care centers, schools, polling places, stadiums and places where alcohol is served, even with a concealed carry permit.
Supreme Court decision prompted gun bill
The legislation was prompted by a Supreme Court decision last June in the case New York State Rifle and Pistol Association v. Bruen. The high court ruling held that lawful individuals do not need to prove they have a "good and substantial reason" to carry a concealed weapon. 
The decision also held that the "proper cause to carry" requirement to obtain a permit in numerous states, including Maryland, was unconstitutional. Democratic lawmakers contended that the Supreme Court decision left a void in necessary gun control laws.
"We have a gun problem in this country, and for the Supreme Court to rule as they did in Bruen, to go from a "may issue" to a "shall issue," I think it was a very dangerous holding," said Attorney General Anthony Brown in an interview with Capital News Service. Brown said he expects Maryland and other states' gun laws to continue to be challenged in court.
"The Bruen case forced our hand," said Waldstreicher, in that the legislature had to act to fill the void in the law caused by the decision.
Gun violence continues to be a growing problem. From Jan. 1, 2023, to April 19, 2023, there have been 165 mass shootings in the United States, including six mass shootings in Maryland, according to the Gun Violence Archive. A mass shooting is defined as at least four people shot, either injured or killed, excluding the shooter, according to the archive.
"My concerns expand or extend beyond Maryland, It extends to all 50 states and the territories in the United States and the District of Columbia," said Brown. "It used to be where we sort of kept track of the different types of venues where you had these mass shootings, it started in schools, and then movie theaters, and then nightclubs, and then synagogues and churches, now it's almost becoming easier to identify places that haven't been."
Democratic lawmakers say SB 1 will aid in curbing the growing gun violence epidemic if signed into law as expected.
Group vows to challenge bill
However, the bill has raised eyebrows over its constitutionality, with gun rights activist groups saying it inhibits the Second Amendment rights of law-abiding gun owners by restricting where individuals with permits can carry their weapons.
"We will challenge many of its provisions in court," said Mark Pennak, president of Maryland Shall Issue, a Maryland gun advocacy group. "So many of its provisions are just blatantly unconstitutional."
For gun control legislation to make it through the courts post-Bruen without constitutional scrutiny, the law must not violate the grounds of the Second Amendment and must have an analog from American history, specifically from when the Second Amendment was ratified in 1791 to when the 14th Amendment was ratified in 1868.
"There is no historical analog as required by the Supreme Court," said Pennak. "Federal district court decisions have held that banning carry on private property otherwise open to the public is flatly unconstitutional. …SB 1 is basically lawless, and I think they know that."
Democrats say they are prepared to defend the bill's constitutionality in court. "We believe the areas that are defined and identified in this bill meet constitutional muster," said Brown.
Backers of the bill said there is a clear historical analog, or comparison, tracing back to the founders' days regarding gun restrictions. "There were still places and spaces then where guns were prohibited, and it's analogous to what we are proposing in Senate Bill 1," said Brown.
Permit fees would increase
Another bill, HB 0824, Possession And Permits To Carry, Wear, And Transport A Handgun, passed the House on April 8, 98-40, and is also headed to the governor to be signed into law.
This bill, sponsored by Del. Luke Clippinger, D-Baltimore City, and 15 other Democrats, would expand the existing prohibitions of access to firearms, increase the maximum fee for handgun permit applications, expand requirements for a firearms training course, and raise the age from 18 to 21 to lawfully possess a firearm, according to the filed bill.
"This legislation removes the 'good and substantial reason' language from Maryland law while also making changes to both our wear-carry permit process and to the process for getting a regulated firearm, that I believe will strengthen public safety," said Clippinger in a Judiciary Committee hearing for the bill in February.
The bill will raise the initial permit application fee, currently $75, to at most $125. The $50 renewal application fee will rise to $75, and the $10 for a modified or duplicate permit will rise to $20. These fees have not been raised since 1992, according to Clippinger.
Supporters include widow of Capitol Gazette victim
Andrea Chamblee, widow of the late Capital Gazette journalist John McNamara and member of Moms Demand Action, testified in favor of the bill at the hearing, recounting the tragic shooting at the newspaper in 2018 that changed her life. A plaque in McNamara's honor hangs in Bowie City Hall.
"I am sitting here, hoping no one will ever have to sit where I am sitting; on June 28, 2:38 p.m., about five years ago, a man with a criminal history of violence walked into the Annapolis Capital Gazette," said Chamblee. "He had spent years terrorizing the Capital Gazette staff with deadly threats after they reported on his crimes; he had a criminal record of violence against women that had been expunged in return for his showing up at anger management classes."
Chamblee said that the expungement of his record, despite his history of aggression, allowed him to obtain a gun, which he then used to kill five people at the Capital Gazette newsroom.
"We must take steps such as this bill … to ensure that guns do not wind up in the hands of people who pose a danger to themselves or others," said Chamblee.
Gun rights advocacy groups are not pleased with the bill's passage, stating that imposes on constitutional rights by creating barriers to legally owning firearms such as higher application fees and new age limits.
"It's not up to the state to decide who can get a permit and who cannot," said Pennak of Maryland Shall Issue. "The Supreme Court says that right belongs to all law-abiding Americans, and certainly that would include the rights of 18 to 21 year olds and people who haven't committed serious violent crimes."
Center would track surrendered firearms
Yet another gun bill, SB 0185, cross-filed as HB 0003, easily passed in the House April 4 by a vote of 112-20.  The legislation, titled Maryland State Police Gun Center- Firearms Surrendered Under Final Protective Orders, is sponsored by Sen. Pamela Beidle, D-Anne Arundel, nine other Democrats and one Republican. 
That bill would expand the purpose of the Maryland State Police Gun Center to include the screening, vetting, and tracking of all firearms surrendered under final protective orders, and to report information regarding the firearm and the individual who surrendered it.
Final protective orders are restraining orders against domestic abusers issued by the court after evidence is presented showcasing abuse. If a final protective order is issued, the abuser must surrender their firearms to the state to be tracked and vetted thoroughly by the center under this bill.
Waldstreicher said he anticipates that Gov. Wes Moore will sign these gun control bills into law.
A spokesman for the governor's office said, "Governor Moore is committed to signing legislation to help curb the gun violence epidemic facing Maryland's communities, people have a right to feel safe in their own communities and the governor is committed to doing everything in his power to make Maryland a safer home for everyone."