NASA crew to mimic life on Mars in yearlong Earth-bound mission
Image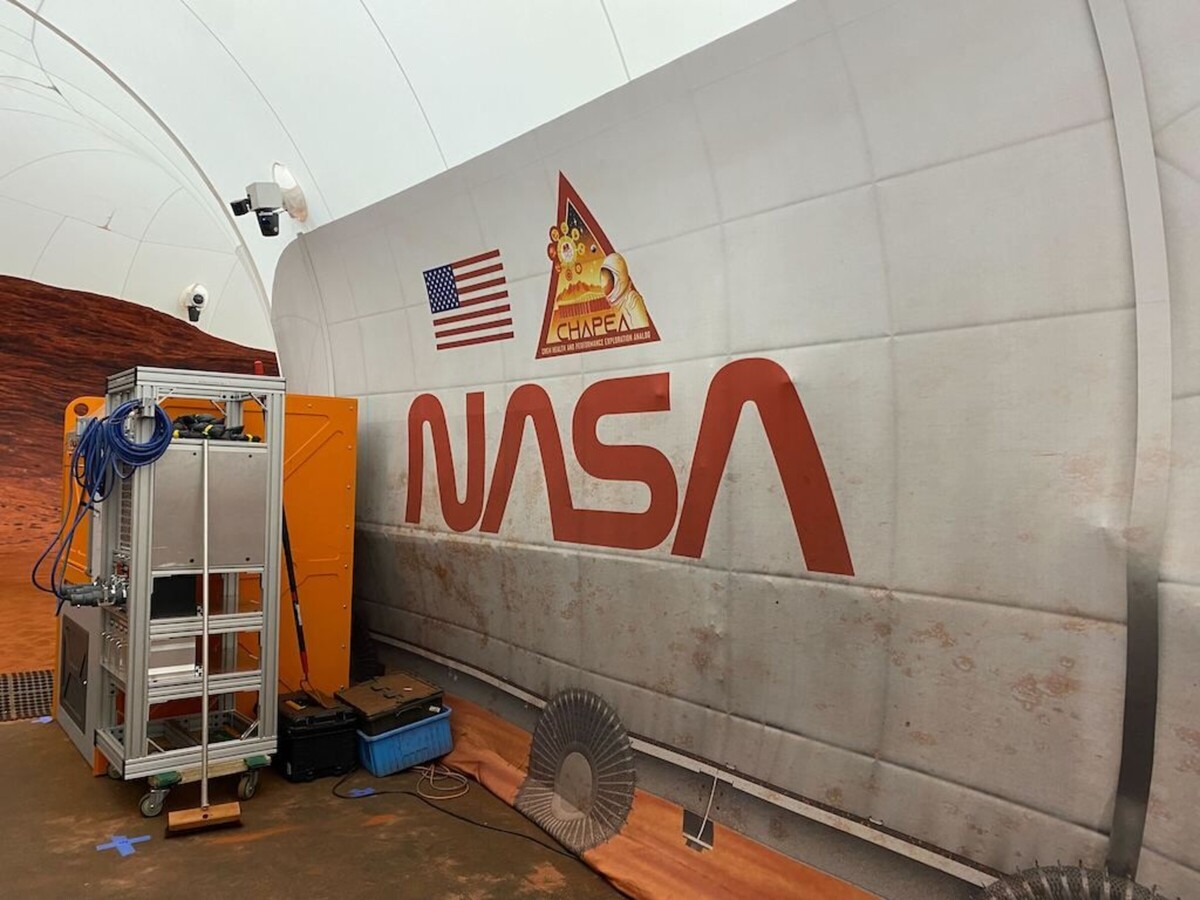 By Destiny Herberg
Capital News Service

HOUSTON – A team of four crew members soon will embark on a groundbreaking one-year mission inside a Mars simulated habitat at NASA's Johnson Space Center this summer as part of the agency's preparations for future human missions to the red planet.
The habitat test run, known as the Crew Health and Performance Exploration Analog (CHAPEA), will be the first of three planned missions in Mars Dune Alpha, a 3D-printed lavacrete structure similar to what NASA may build in the future on the surface of Mars.
"We are selecting crew that are astronaut-like and they will be living here in the Mars Dune Alpha in isolation and confinement for that year," said Grace Douglas, CHAPEA's principal investigator. "They will be conducting activities similar to what we would expect them to conduct on Mars's surface."
Activities include virtual reality simulated spacewalks or "Marswalks" in the environment's 1,200 square-foot sandbox, robotic operations, and crop growth experiments. Crew members will conduct all these activities while facing challenges similar to those a human could expect on Mars.
Experts across NASA have been developing the "very accurate" simulated Mars missions since late 2020, Douglas said, but an actual manned mission might come in the 2030s.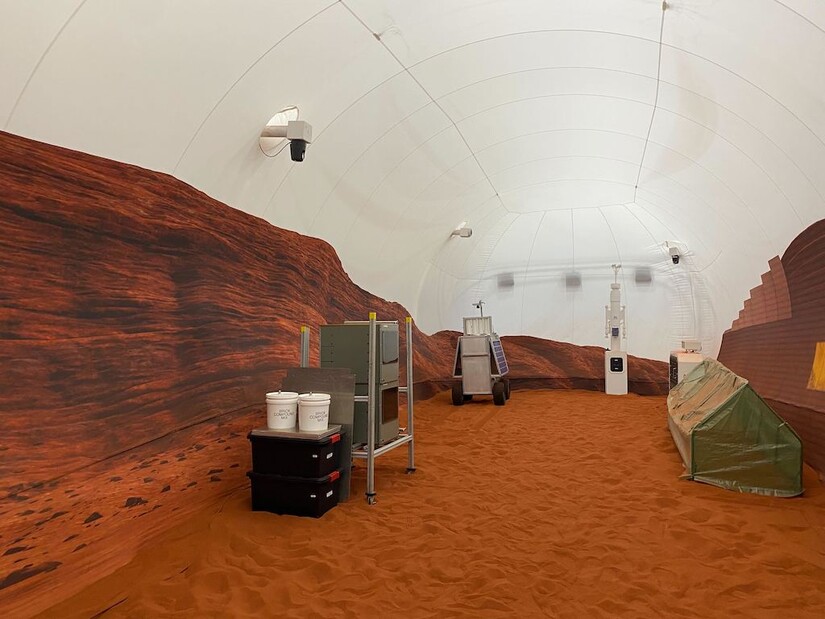 The planned CHAPEA missions will not be able to simulate Mars's gravity, which is roughly a third of the Earth's, due to technological restrictions, but the crew members will proceed on Marswalks as though they were experiencing those conditions.
In the sandbox portion of the habitat, a thick layer of dyed red sand will slow down the crew member's steps, as well as the heavy spacesuits they will wear each time they step out of Mars Dune Alpha.
Crew members will use curved treadmills and wear virtual reality gear to simulate what walking and performing maintenance activities on Mars will feel like. The sandbox includes solar panels, a small greenhouse, and oxygen-gathering machinery that the crew will work on.
"We thought through a few different types of spacewalks that we thought would be realistic to what astronauts would do on the surface of Mars," Raina MacLeod, CHAPEA deputy project manager at Johnson said in a statement. "We would have them do geology work, and then they probably would do some building tasks, and then also exploration. So, those are the three categories we are looking at for CHAPEA – geology, building, and exploration."
During the mission, the crew members will control a helicopter-like drone and a roving robot by working in pairs inside the habitat to remotely operate the robots, surveying remote areas, collecting rock samples and documenting geological information.
"The robotics element is a very interesting activity that we are including for our crew. It's always good to have really stimulating tasks, especially on a long-duration analog study to keep the crew excited," MacLeod said. "But these activities could also be very realistic in that future Mars astronauts could utilize remote piloting drones and rovers to expand the reconnaissance radius."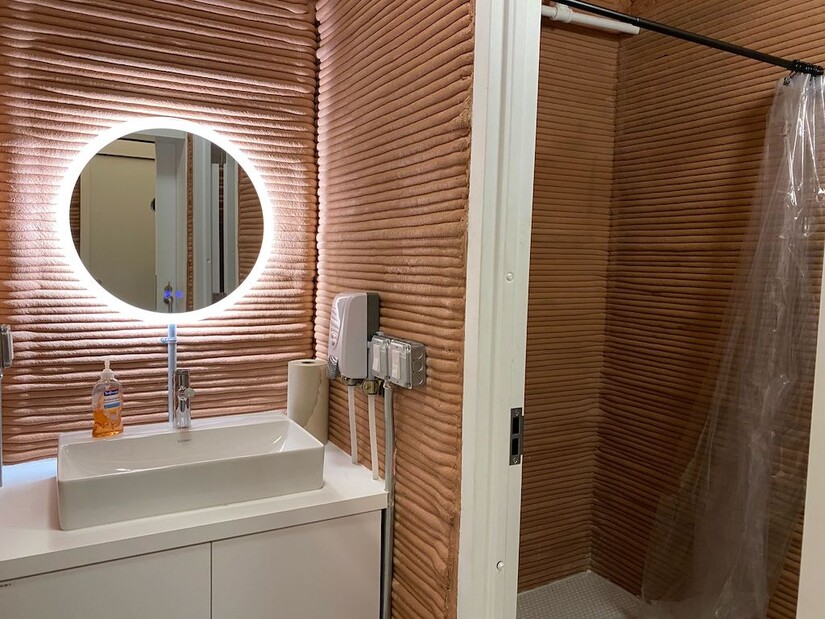 CHAPEA will help NASA to better understand risk and resource tradeoffs that may be faced on Mars to best support the crew's health as the agency starts designing and planning for extended-duration Mars missions.
"Our goal is to really understand that with the resource restrictions that we would put in place for a Mars mission, and with the performance that we're expecting them to be able to complete cognitively and physically, are we able to support them adequately?" Douglas said.
Living quarters inside Mars Dune Alpha are tight, with a floor plan of only 1,700 square feet. In comparison, the median size of a single family home in the United States is 2,430 square feet, according to PropertyShark's analysis.
Mars Dune Alpha's interior includes four bedrooms, two bathrooms, a combined recreation area and kitchen, space for crop growth and food storage, as well as a separate work area with a fitness room and medical bay. The hallways are narrow, and the individual bedrooms fit a twin-sized bed without space for much else.
Crew members "ideally" will have access to running water, Douglas said, but may lose access as they are subjected to Mars-realistic environmental stressors like equipment failure and resource limitations.
All communication between the crew members and the outside world will be time-delayed by roughly 20 minutes each direction to simulate the time it takes messages to travel from Mars to Earth. This will present a unique challenge for crew members because problem-solving with teams at mission control will involve about a 40-minute lag between each message.
Mental health is an important consideration for crew members during the mission due to the prolonged isolation and confinement, said Sheena Dev, a scientist at NASA's Behavioral Health and Performance Laboratory.
Crew members will be able to regularly speak with psychologists throughout the mission, although they will be subject to the communication time-delay.
The CHAPEA team will be evaluating strategies for supporting both the behavioral health of individual crew members and the social support network among the crew over the course of a full year of isolation, Dev said, to plan for the eventual two-and-a-half year missions to Mars.
Prospective crew members for the CHAPEA missions are "astronaut-like" members of the general public who are selected through a series of physical and mental tests.
NASA is expected to announce the four crew members and two alternates for the first mission in the coming weeks.