Bowie State offers job training, degree to incarcerated students
Image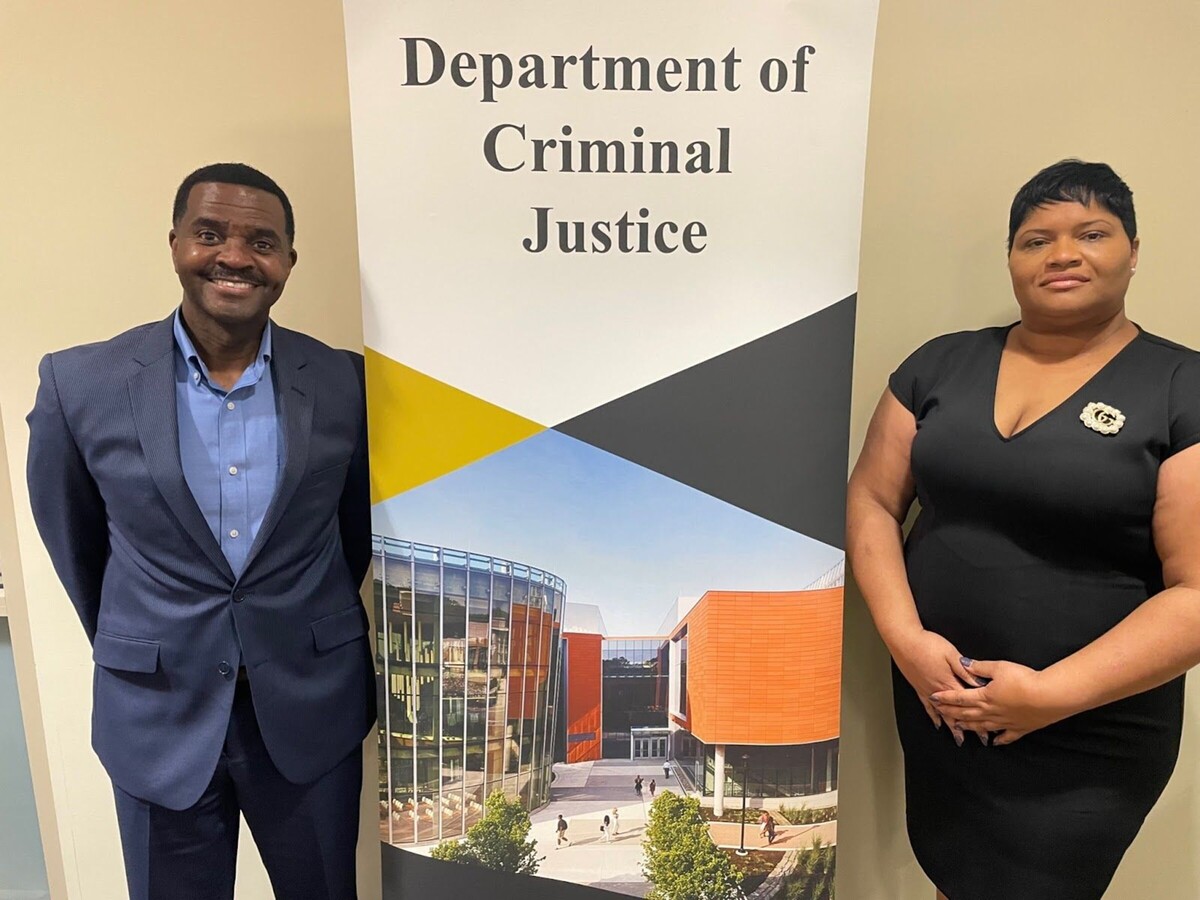 By Greg Morton
Howard Center for Investigative Journalism

BOWIE, Md. — For Bowie State University professors Charles Adams and Matasha Harris, the classroom extends beyond the campus, outside the Bowie area and all the way north to the Jessup Correctional Institution.
Participants in the Prison Education Program, part of Bowie State's Institute for Restorative Justice and Practices, are incarcerated at Jessup and in varying stages of their sentences in the criminal justice system. 
Their professors and the politicians backing the program hope that a prison education will not only create a path to upward mobility upon release but also reduce the chances of recidivism.
Maryland's recidivism rate comes at a high cost. Each month Maryland spends just over $5,000 per incarcerated person, according to the state Department of Public Safety and Correctional Services. As Adams put it, "the revolving door is costly. And not only in capital, in human capital. It has a very destructive impact on our communities, especially marginalized communities."
Since fiscal year 2016, about 19% of people released from state incarceration in Maryland return within a year, according to a November report by the state Department of Public Safety and Correctional Services.
The inability of released individuals to gain employment is a key factor driving the state's recidivism rate, according to a 2016 report compiled by former Gov. Larry Hogan's public service scholars.
Currently, Bowie State and Morgan State University are the only two historically black universities in Maryland that have received funding under an inmate training bill that passed in 2021, Harris said. Bowie State began offering a sociology degree and an entrepreneurship certificate through the institute last semester, while the vocational training program will begin in the fall, she said.
Bowie State plans to offer the training to both men and women at Jessup facilities, Harris said. The women prison population, she said, is often "overlooked because they're a small portion of the incarcerated population. But with having the first woman president at Bowie [State], and also me being a female criminologist, I thought it was a need to enter into the women's facilities to offer these programs there."
Adams and Harris hope that their program's success can provide a model for other HBCUs planning to offer similar programs.
"We don't have to be theoretical, we don't have to simply do research. We can actually go out and be a part of that community, be a part of the change that we're looking for in our society," Adams said.
A resource for the community
In addition to prison education, the institute offers expertise on school discipline issues, Adams said. "So we work closely with individuals in the community. They often call to ask about training, or ask about anything surrounding restorative justice and practices," he said.
"Our plans are to be that resource for not only juvenile justice, criminal justice, but the schools," Adams said. "Many times, the school systems, when you have an unwanted, undesirable behavior, their ace in the hole is expulsion," he said. "What we know is that anytime you have an investment in the community, anytime you take an opportunity to educate, opportunity to address the underlying issues, it works."
Within the criminal justice system, the institute could help shed light on "the causes and commonalities" of individuals who are committing offenses, said Prince George's County State's Attorney Aisha Braveboy, who is an adjunct professor at Bowie State.
Braveboy also said she would be interested in effective programs for those on probation or in prosecutor-led diversion and intervention programs. "What is it that has really changed their lives so that we can do more of what works and less of what doesn't work? So I think Bowie State, because they are a research institution, can really help us with that research and data angle," she said.
"It's past time to consider creative ideas like this," said Tameeka Washington, executive director of the Interfaith Coalition of Bowie. She explained that the idea of restorative justice is rooted in the faith community's belief in forgiveness. "We are clearly on the side of restorative justice… Restorative justice is the foundation of our faith," Washington said. Although she said the Bowie area is becoming more progressive politically, older residents may want to see accountability for crimes "in a way that feels comfortable to them."
"One of the questions I often hear from the community is, 'Well, what can we do?' What can we do to get involved, particularly when it comes to youth?" said Keenon James, who ran unsuccessfully for state delegate in District 23, which includes Bowie and Upper Marlboro. "I think restorative justice programs allow the community to engage at a level, and support particularly youth, …in trying to avert them from going into the justice system."
Churches and nonprofits can play a role in restorative justice, said James, a gun violence survivor and member of the Prince George's County Police Accountability Board. Restorative justice, he said, may include programs that intervene in the lives of youth who may be truant, newly released from prison or incarcerated.
Other restorative justice programs focus on providing closure to victims who seek dialogue with the offender, said James, a senior director of Everytown for Gun Safety, who lost his brother Sean to gun violence in 1993. "So restorative justice is also another opportunity to help create those community connections, both on the victim and offender side, as we all work to reduce recidivism."
'A holistic approach'
Proponents of restorative justice view the American criminal justice system as unduly harsh and ineffective in rehabilitating offenders. Critics contend that the practice of restorative justice allows offenders to escape accountability, and could possibly create a situation for crimes to be recommitted.
"I know when you're a victim of a crime it's real; it is painful. But in order to address that, we really need to begin to look at a more holistic approach," Adams said. "And law enforcement certainly has a role in how we address crime and criminal behavior, but ultimately there's other factors that have a greater impact on crime and criminal behavior," he said, citing after school programs and other proven interventions.
National surveys released in 2016 and 2022 found that a majority of victims of violent and non-violent crime support rehabilitative options beyond prison such as increased spending on mental health, education and job creation. Nearly all but a dozen states have restorative justice statutes, according to a legislative database created by the University of Denver.
For Adams and Harris, who serve both as the institute's ideological leaders and two of its instructors, the work they are doing represents the culmination of careers working with incarcerated people.
Adams worked in community-based corrections as a probation officer. He recalled being moved by seeing firsthand the struggles that the formerly incarcerated must brave to reintegrate themselves into society.
Harris, who grew up in rural Caroline County, Virginia just outside of Richmond, remembered how scared she was to visit Richmond as a child because of how prevalent crime was in the city. That fear and lack of understanding pushed her to seek out the root causes of crime in her community.
"That was a driving force with me going into criminal justice and trying to understand individual behavior and to see what played a role in individuals committing crime," she said.
Learning from the Inside-Out model
For both professors, the idea of offering Bowie State courses to incarcerated Marylanders began with a visit to Macomb Correctional Facility in Michigan through the Inside-Out Prison Exchange Program in 2016.
Both professors recalled how they felt as they met bright incarcerated people burdened by their circumstances.
Shortly after they returned, the professors hatched a plan to offer Second Chance Pell Grants that would allow incarcerated people to attend college by alleviating the financial burden associated with pursuing a degree.
In 2020, Bowie State was approved as a Second Chance Pell experiment site, allowing the university to offer a four-year degree in sociology to people incarcerated in Jessup.
Students are required to have a high school degree or equivalent, fill out the same application as prospective undergraduates, and follow the same curriculum taught by Adams, Harris, and a growing cast of adjunct professors. Students even have the option to continue classes at Bowie State if they are released before their degree is finished.
The degree program currently has ten students ranging in age from mid-twenties to mid-forties.
Funding for prison education
Bowie State expanded its offerings in 2021 through an inmate training bill, SB 800, which allotted about $300,000 per year to provide courses and vocational training to individuals who are a year from release. 
Participants can opt to take restorative justice courses and training toward a potential certificate in the field, Harris said. The restorative justice curriculum is based on a philosophy pioneered by criminologist Howard Zehr and articulated in his 1990 book "Changing Lenses–A New Focus for Crime and Justice."
Harris, who first implemented restorative justice practices as part of her Ph.D dissertation, was determined to make the philosophy a part of her curriculum upon arriving at Bowie State. "When I came to Bowie and Dr. Adams and I were discussing growing our criminal justice program here, restorative justice was a natural fit in terms of the number of individuals incarcerated here in Maryland," she said.
The bill to fund the Prison Education Program easily passed the state senate with bipartisan support. Restorative justice and Bowie State's programs specifically have also found supporters at the federal level. 
Shortly after receiving funding from Bill 800, the Prison Education Program was granted another $750,000 through a U.S. House Appropriations subcommittee bill passed in July 2021.
One of the advocates of this funding was Rep. Steny Hoyer, whose congressional district includes Bowie. "I will continue to put the needs of Fifth District families first, and advocate for funding that boosts mental health services and supports restorative justice programs," Hoyer said of the bill's passage in 2021.
Despite the influx of funds from the state and federal governments, the program's funding cannot come close to matching the prison system's. Though the program is growing and hoping to hire eight positions, the work of running the program often falls squarely on Adams and Harris.
"This is something that's passionate to us. We understand that this is our people in terms of who we're supposed to serve," said Harris. "We oftentimes get tired, but we still push forward in terms of the work that we're doing," she added.
Greg Morton is a fellow in the University of Maryland's Howard Center for Investigative Journalism. Catherine Hollingsworth contributed to this report.