Loaded handgun found on Bowie High campus, letter states
Image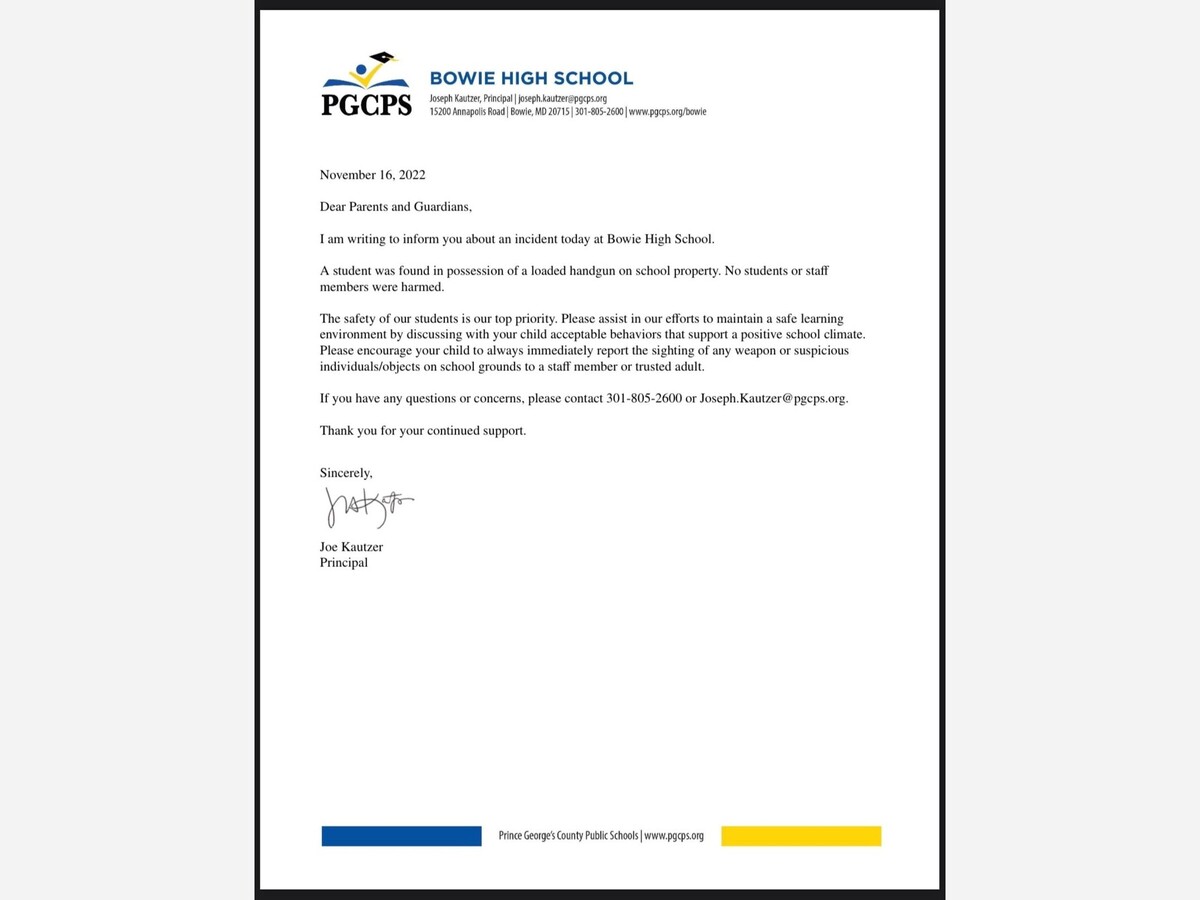 Bowie High School parents and guardians received a shocking letter this week about a student with a loaded gun that did not result in any harm.
"A student was found in possession of a loaded handgun on school property," according to a Nov. 16 letter to Bowie High parents and guardians. "No students or staff members were harmed," stated the letter signed by Bowie High Principal Joseph Kautzer.
This is not the first incident involving a Bowie High student in possession of a gun. A Bowie High student was charged in 2015 for bringing a loaded gun to the school, the Associated Press reported at the time. Another Bowie High teen in possession of a gun was arrested near the school in 2018, according to media reports.
Bowie Police John Nesky said police were notified  about the gun the morning of Nov. 16 and charged a 17-year-old student, who was taken to the Department of Corrections in Upper Marlboro. That student, he said, had "an interpersonal confrontation" with someone the day prior on school property. 
"Evidently, threats were made that he would shoot somebody. Based upon those threats, school security actually searched him and found the weapon," Nesky said. He did not have further details about the confrontation that led to the threat. 
Nesky added, "If you want to look at it in a more positive light. I mean, you can see that the system actually worked. Kudos to those school security folks for paying attention and staying on top of it and finding the gun."
Parent inquired about bag checks
Bowie High parent Monica Henderson told the Bowie Sun that earlier this month she found a wine bottle opener in her son's room as she was organizing. When she questioned him about it, she said he told her he needed it for protection at school and that other Bowie High students also bring weapons to school for protection. "Nobody checks us. Nothing happens like that... Other kids bring their guns and knives." He, too, wanted his mom to let him carry a knife, but she refused.
As Henderson recalled, her son told her the night of Nov. 5 a rumor about a gun incident that made him fearful enough to ask his mom to put him in another school. "A kid got robbed at gunpoint on his way to school by another student," Henderson said, in recounting her son's concerns. The student with the gun was rumored to have taken the other student's shoes and wears the shoes to school, he told his mom.
"I'm just tired of being here. It's distracting. It's always chaos," he said of the school, Henderson said. She did not want her son's name printed for privacy reasons.
Unable to sleep the night she learned of her son's safety concerns, Henderson, who works for D.C. Public Schools, said she emailed Kautzer about the rumor of a Bowie High student being robbed of his shoes at gunpoint. In her Nov. 6 email copied to top county school officials, she wrote, "As a Dean for DCPS, I have seen how not doing security checks for weapons and drugs can compromise the safety of everyone."
Henderson noted that backpacks are routinely checked in D.C. high schools. "Every school that I've worked at has a metal detection process when kids come in the building." Not so at Bowie High. "So you really could just come in with anything and no one would say anything unless suspicion is raised," she said in an interview.
Kautzer's Nov. 16 letter emphasized "always immediately report the sighting of any weapon or suspicious individuals/objects on school grounds to a staff member or trusted adult." Students who bring weapons to school could face possible expulsion, according to the PGCPS code of conduct.
On the first day of school, two students were arrested for bringing guns to Suitland High School. In response to that incident, Prince George's County Schools CEO Monica Goldson issued a letter Aug. 1 reiterating state law on gun storage. "Maryland requires that all handguns in the home must be equipped with an external safety lock or mechanical disabling device
that prevents accidental discharge," Goldson wrote.
This story was updated Nov. 17 to include details and comment from Bowie Police.
---
---